Because at Ausha, we believe in the power of video for promoting your podcast and boosting your numbers of downloads, we now give you the ability to generate your Video Clip in various formats: square, horizontal and vertical. 🔥
The right video clip format for every purpose
Until now, you could upload a video clip of your podcast and automatically share it on your social networks from Ausha, but only in square format. 😁
This format (which is very practical, by the way) already enabled you to easily promote your show on all social networks.
But because we here at Ausha want to give you the world, our team has developed other formats in order to 100% optimize sharing your Video Clips on all your social networks: Facebook, Twitter, LinkedIn, Instagram and Story.
Beginning today, you have the ability to download your Video Clip in square, rectangle or story format. 🔥
Go even further in customizing your Video Clip
Because a video excerpt can be a listener's first step toward your podcast, it needs to reflect your world as much as possible…with your colors, your visual identity, etc.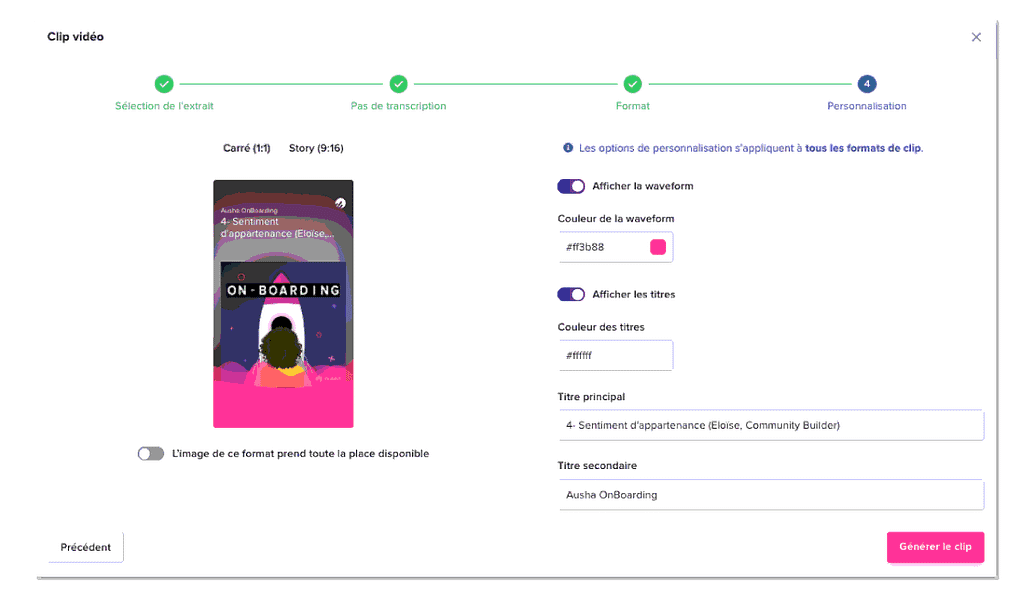 Ausha allows you to fully customize your Video Clips:
Customize your colors 🌈
Change your background image 🖼️
Choose the size of your background image
If you wish, display the waveform 🎙️
Edit all your titles 😁
If you wish, add automatic transcription 💪
In short: emphasize the brand identity of your podcast through your Video Clip and broadcast it on all your social networks in the desired format!
Discover our presentation video!
–
Ausha is the first platform dedicated to podcasts that allows you to generate several formats. Try this new feature today!
Propulsez votre podcast avec Ausha 🚀
Plus qu'un hébergeur, une seule et unique plateforme avec tous les outils de diffusion, de communication et d'analyse pour votre podcast.
14 jours d'essai • Sans CB • Sans engagement
product
Launch your podcast with Ausha
All-in-one platform to easily launch and grow your podcast.
Start for Free