Do you want to be that awesome person that starts all of their sentences by, "I listened to a great podcast yesterday."However, you're finding that listening to podcasts is a bit of an obstacle course. Well, do not panic, we've put together the ultimate guide to getting you on the right track so that you never miss a single episode of your favorite show.
When to listen to podcasts? 
What's great with podcasts is that you can listen to them whenever and wherever you want. Whether you listen online or offline by downloading episodes.
Depending on your desires and habits, you may prefer one method over the other (or both). Ask yourself, where do you like to listen to your podcasts? In the car? At work? At the gym? Or simply at home with a cup of tea. This will give you an idea as to which listening mode to choose.
Where to find podcasts?
Podcasts are everywhere on the net. You can listen to them on any medium that supports the audio format: from your Smart TV to an old iPod, there are no good solutions. The most common way being listening on your computer or on a smartphone via an application for example. Depending on what you use and your way of consuming media, you can find your podcasts in various places.
On Websites
Already know which podcast you want to listen to? Head over to their website. This is a fairly practical method, especially when several podcasts are grouped together. For example, this is the case with podcast production and distribution companies such as Gimlet or Radiotopia. More recently, radio stations have also started rebroadcasting their programs (which they also call podcasts), so you can find your favorite shows on their websites. However, be careful, not all websites allow you to download podcasts.
On Listening Platforms
Podcasts have made a name for themselves alongside music on most streaming platforms. If SoundCloud has long been used by musicians, podcasters have also invested in places where you can find your favorite episodes. Moreover, Deezer and Spotify are further examples of music streaming platforms on which you can now listen to podcasts. The advantage of these platforms being that you can subscribe to your chosen podcasts and receive new episodes as soon as they are released.
Unsurprisingly, iTunes remains the most popular platform for listening to and discovering podcasts, the offer is there and the ability to rate and comment on favorite podcasts encourages content creators. Here you will also be able to download your podcasts and listen to them offline later.
On Applications
Apps that you can download directly to your smartphone are also an effective way to listen to your podcasts wherever and whenever.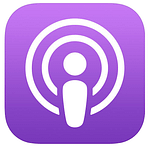 Podcast: The app is directly integrated on the iPhone. How convenient!
Podcast & Radio Addict: Available on Android, PodcastAddict is the most popular app with an incredibly comprehensive library.
Our Selection: 
Si vous ne savez pas encore quels podcasts écouter voici une sélection des podcasts favoris de notre équipe, pour entrer en douceur dans ce monde merveilleux :
If you're still lost as to which podcasts to listen to, here is a selection of our team's favorite podcasts to help ease your entrance into this wonderful world:
Want more? Send us a message at

[email protected]

& we'll send you a new podcast to discover!
Inspiration