Here at Ausha, our engineers are laser focused on harnessing the best, cutting edge technology to boost podcasters' growth while saving them time and energy. 🚀
And one of the most cutting edge technologies these days is Artificial Intelligence. That's why you will see more innovations with AI at the heart of our innovations for the coming months…
And it starts today with the integration of ChatGPT, the most advanced AI available, into our Social Media Manager. 🚀
What is ChatGPT?
ChatGPT is an artificial intelligence chatbot that produces written content based on the user's requests, including writing style and tone. As part of the Ausha Social Media Manager, it will write social posts for busy podcasters. ✍️
The technology works by analyzing a podcast's show description and episodes to learn the unique tone and content. Then it uses that information to write a social media post just as the podcaster would!
All it takes is clicking the "Generate with AI" button right above the text box when creating a new social post: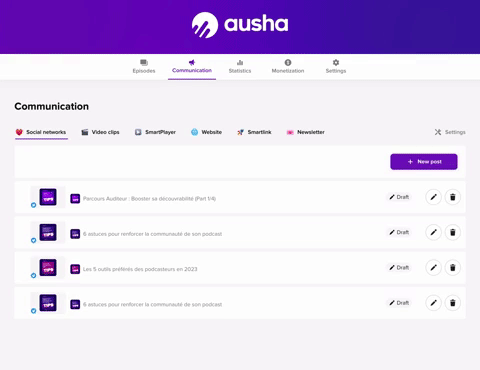 With Ausha's Social Media Manager, podcasters already had a time-saving, centralized platform to create and schedule posts for Twitter, LinkedIn, Facebook, and Instagram. Now with ChatGPT, it will only take a few clicks to create and post all the social content a podcaster could ever need. 🥳
AI, the future of podcasting
At Ausha, we forecast AI will play a significant role in the future of podcasting, and we plan to be on the cutting edge of it.
We are convinced that, as AI continues to advance, it has the potential to revolutionize podcasting by unlocking new levels of creativity, enhancing listener experiences, and shaping the future of the medium in unprecedented ways.
So AI will be at the heart of our roadmap for any new developments. We won't hesitate to use AI to help you, podcasters, better distribute, market, analyze, and monetize your shows, all while decreasing your workloads.
–
Our mission is to make every podcaster's voice heard, and this latest innovation is key to that. This technology will help podcasters build their online community and get discovered by new listeners.
---
Currently, this feature is in Private Bêta on Ausha. You want to be one of the first to experience ChatGPT in the Social Media Manager? Register on our waiting list and get a chance to be selected by our team.
---
Empowering podcasters for the future is an honor. We are grateful, and excited, to be part of it. 💜
Launch your podcast with Ausha
All-in-one platform to easily launch and grow your podcast.
Start for Free