Haven't you ever wished your listeners would go to your website or buy your book after listening to your show? How many times did you tell them at the end of an episode that they could enroll in your training? Or support your project financially by following the link in your description? 🤔
Because, we too, asked ourselves these questions one day, we developed the possibility of adding buttons (or Calls-to-Action, CTAs) to your communication media linked to your podcast: Newsletter, Smartlink, Smartplayer and Website. 🚀
–
Display your CTAs everywhere
A call-to-action (CTA), in marketing, is a button, phrase or link that calls to action. The action can take any form, such as "Buy my book!", "Sign up for the training", "Support me!", "Visit the website", "Read the article", etc. You can redirect to any site of your choice, the sky's the limit! 💪
Starting today, from Ausha, you can add an unlimited number of buttons to your communication materials. Depending on your end goal, customize your CTAs and choose their placement. You can post them in the Newsletter, the Smartlink, the Smartplayer and on the Website dedicated to your show.
Boost your audience's engagement
Whether you're just launching your podcast or you're a seasoned podcaster, you are undoubtedly looking for the same thing: to build audience loyalty and make your listeners true ambassadors. 🥰
To do this, encourage them to continue their experience beyond your podcast by following you on other channels, related to your podcast and your world. A newsletter, a training, a website, a book: the possibilities are endless. 💪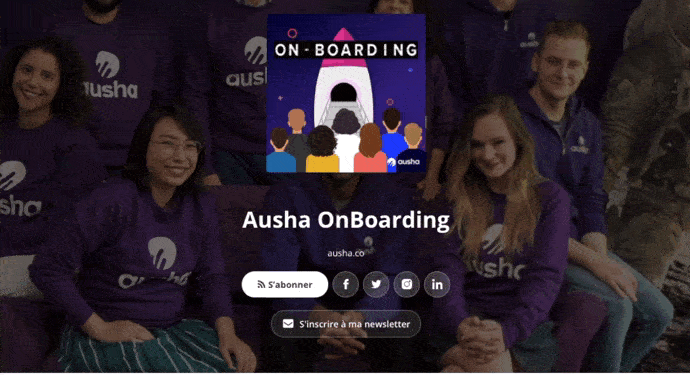 Get financial support
We're not going to teach you, that while creating a podcast takes time and energy, making money with that content isn't always easy. Some podcasters then turn to their community by creating a fund on a crowdfunding platform like Tipeee or Patreon to increase their income. 🥰
With these new buttons that you can add to all your communication materials, you encourage your audience to support you financially by redirecting them directly to your crowdfunding platform.
Offer more content to your listeners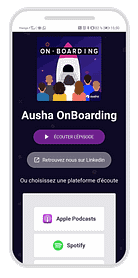 A podcast rarely lives alone. Very often, it's accompanied by a blog, a website, social networks or a newsletter. With the buttons that we suggest you add to your communication materials, you can now redirect your listeners to this additional content. 🌈
For example, by adding buttons to your Smartlink redirecting to your website, your blog, or to a particular article, you concentrate all your main links into one URL.
Track traffic to your website with CTAs
"How do we know how many listeners who listened to our podcast also visited our website?" This is a question we are often asked at Ausha.
With the ability to add custom buttons to your communication materials, you can track your listeners and know exactly how many people are coming to your site or blog from your Smartlink, your Newsletter, your Smartplayer or even your Website. 😁
To do this, all you have to do is fill in a tracked URL, with what is called an "utm". It is very easy to do. You can go through Campaign URL Builder or directly through bitly and monitor from those particular links how many people clicked. 🔗
–
Propulsez votre podcast avec Ausha 🚀
Plus qu'un hébergeur, une seule et unique plateforme avec tous les outils de diffusion, de communication et d'analyse pour votre podcast.
14 jours d'essai • Sans CB • Sans engagement
product