Over the course of a month, 100 lucky podcasters had the opportunity to experience this cutting-edge innovation firsthand. Now, we are thrilled to share that Ausha is making this AI-based solution available to all users, empowering podcasters worldwide to take their online engagement to new heights. 🔥
Unleashing the Power of ChatGPT
At Ausha, we believe in embracing innovation and constantly seeking ways to enhance the podcasting experience. With the integration of ChatGPT, we have taken a significant leap forward in providing podcasters with a powerful tool to amplify their online reach. 🚀
ChatGPT leverages the rich metadata of a new podcast episode to generate comprehensive social media posts with just a single click. This revolutionary technology analyzes the episode's content, extracting key highlights and insights, and creates engaging social media posts that captivate audiences. 📱
Simplifying Social Media Management with Ausha and ChatGPT
For podcasters, managing social media accounts can be a time-consuming task. 😩Crafting compelling posts, finding relevant hashtags, and maintaining an active presence across various platforms can be overwhelming.
With Ausha's AI-powered Social Media Manager, these challenges become a thing of the past.
By automating the post creation process, podcasters can save valuable time and focus on what they do best—creating exceptional content. With ChatGPT at their disposal, podcasters can effortlessly generate attention-grabbing posts that resonate with their audience and drive increased engagement.
Thanks to this feature, podcasters have created an average of 3 times more posts on social media and achieved 2.3 times more impressions.
How to use ChatGPT on Ausha?
Getting started with Ausha's AI-powered Social Media Manager is super easy. 😎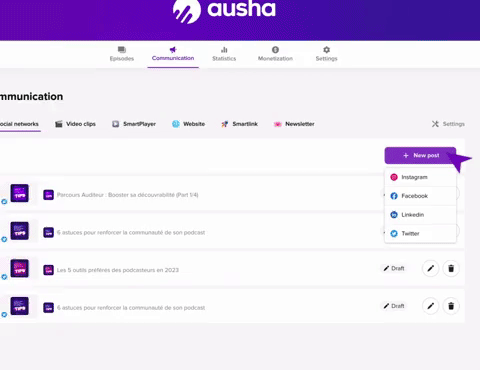 👉 Simply sign up on Ausha
👉Go to the "Communication" Tab
👉And then click on "Social Media"
👉Here start a post on Twitter, Linkedin, Facebook or Instagram and use the button "Generate with AI" to help you get the perfect text for your social media publications.
By leveraging the power of AI, you can elevate your social media presence and build a stronger connection with your audience.
–
At Ausha, we are committed to democratizing podcasting and providing innovative solutions that benefit content creators of all sizes. With the integration of AI, we are proud to offer podcasters a game-changing tool that streamlines their social media management and unlocks their creative potential. 🚀
product
Launch your podcast with Ausha
All-in-one platform to easily launch and grow your podcast.
Start for Free