A great podcast marketing strategy is one that grows your audience without you costing a lot of time or money. In this blog article, we are going to give you the ten best marketing strategies that do exactly that. 🔟
Notice that we did not mention paid ads. While doing paid ads for your podcast is fine for promotion, it is not absolutely necessary. If you develop and execute a solid marketing plan based on these ten strategies, your show will grow without paid ads. 💸
Without further ado, let's jump into each one of these marketing strategies for podcasters to grow their audience!
Hook Potential Listeners with Deeplink
The first podcast marketing strategy we will cover is using a specialized link to make sure potential listeners are directed exactly where you want them when they check out your podcast for the first time. 🔗
Why is this important?
According to a report by Edison Research in 2022, 80% of people who click on a promotion link end up on a different episode than the podcaster intended. 😫
That is because most of the time the promotion link just takes a potential listener to the overview page of a podcast. Then the potential listener has to scroll around, reading episode descriptions, deciding if they want to click 'play' or not.
That's a lot of decision-making by potential listeners, and that's even if they do decide to click on your promotion! You end up losing a lot of them before they even give your show a try.
In order to promote your show more effectively, you need to shorten that listener journey in order to increase your conversion rate of potential listeners to actual listeners. ⬇️
What is Deeplink?
Here at Ausha, we have technology called "Deeplink." With a Deeplink, you pick exactly which episode you want potential listeners to be directed to. All they have to do is click play. It makes all the difference in the world when it comes to growing your audience! 📈
No scrolling, no decision-making, just them testing out the product and deciding if they want to keep listening or not.
All the while, in the background, our Deeplink automated technology is working hard through something called a "looping system of attempts" to make sure the link is exactly right on Apple Podcasts, Spotify, Google, and YouTube. 🤖
So you never have to worry about this marketing strategy once you have set it into motion!
Plus you can customize the Deeplink with your brand colors… marketing paradise. 🌈
Create Social Media Video Clips
Social media is critical to promote your podcast, and video content is critical to social media. That's why our next podcast marketing strategy is create videos for your social media. 📹
Doing this manually can take up a lot of time and cause you stress. That's why we recommend using our Video Teaser Tool in our Social Media Manager. Instead of creating all these clips from scratch, our tool will create a short teaser video of your latest episode.
Video Trailer Tool
Our trailer tool transforms a clip of your podcast audio into a video, complete with waveforms of your brand color and automated subtitles. 😲
Plus, it automatically formats the clip based on what platform you plan to post it on: LinkedIn, Facebook, Twitter, and Instagram.
People will share this sharp, professional video of your podcast, organically growing your reach. Again, with minimal time and effort from you. 😎
Without the Tool
Regardless of if you are Ausha member and have access to the Video Trailer Tool, you need to be creating videos in order to promote your shows. Social media algorithms basically demand them at this point.
Record the "behind the scenes" of making the podcast. Try capturing the brand of your podcast with short clips of you, your podcasting setup, or even you interacting with whatever your show is about. Don't be shy! 🥸
Post Frequently on Social Media
A long the lines of the podcast marketing strategy above, overall you need to post frequently on social media. You want to make sure the people who follow you on social media platforms are reminded of your awesomeness all the time!
But we can hear your protests now: You are busy! Your brain is full of other tasks that need to be done. Even when you have a plan to create content to post, it is hard to stick to it. 🤷‍♀️
Ausha's ChatGPT Integration
Don't worry, ChatGPT is here to help! This little, free robot of the internet can be your podcast marketing assistant. 🤓
Ausha has integrated ChatGPT into its Social Media Manager. All you have to do is click "Generate with AI" and ChatGPT will take the transcript of your episode and turn it into a social media marketing post. Its so easy, your social media content will skyrocket.
But don't just take our word for it. Here's the cold, hard data: Ausha users who used ChatGPT produced 3 times more content than they had without it. That resulted in 2.3 more impressions for their podcasts. ‼️
Talk about an effective podcast marketing strategy!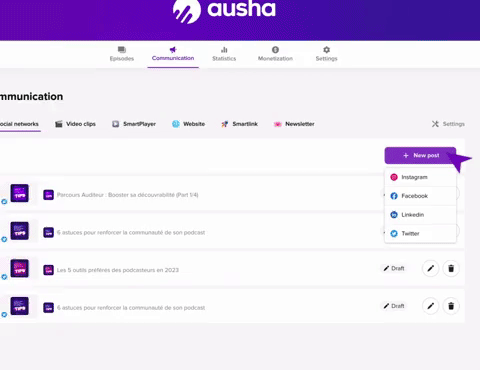 Of course you can always use ChatGPT outside of Ausha. You will just need to get a transcript done, do a lot of copying and pasting, and make sure your prompts are correct. Not quite as effective that way, but you should still consider it!
Publish to YouTube
The next podcast marketing strategy we will cover is publishing your podcast to YouTube.
By doing this, you are putting your show in front of YouTube's audience of 2 billion people all around the world. That kind of exposure will boost your growth, especially because YouTube will recommend your show to people who it thinks would be interested. Free promotion! 😍
Automated
Here at Ausha, we offer our members an automated option to pursue this marketing strategy.
All you have to do is toggle on "Broadcast to YouTube." Then Ausha automatically transforms your full episode audio file into a video file and uploads it to your YouTube channel. 🥳
The file consists of a moving sound wave that follows your audio patterns, your podcast covert art, title, and description.
The nice thing is that you can retroactively apply this podcast marketing strategy to past episodes. Simply go back into past episodes and toggle on "Publish to YouTube." ⏪
Non-Automated
If you go the non-automated route, you have two options. ✌️
You can make a similar video to what Ausha automatically makes for you. You will need a editing software to put your cover art, title, and description on top of your audio file.
The second option is to go all out and custom make a video episode for YouTube. Pick the best podcast camera, make sure you have good lighting, learn how to edit, etc. Obviously this takes a ton more work, but some podcasters love it! 🎬
Optimize Your YouTube Channel
However you choose to do your podcast episode videos, be sure to optimize your YouTube channel when you start it. 🏆
Make sure your show and episode descriptions have all your keywords, create thumbnails for your episodes, get rid of any spam in the comments, ask for reviews, etc.
Since YouTube is part of Google, optimizing your channel will go a long way to help people find your podcast whenever they search your podcast's topic. Again, free promotion! 🤑
Make a Great Website
Speaking of optimizing on Google, our next podcast marketing strategy is make a great website. Making a great website is key to growing your audience through search engine optimization (SEO). 🕵️
When people search your podcast's topic online, you want your podcast to pop up in some of the first search results. To do this, you need a solid website.
Ausha Automated
You are never going to guess what we are going to write next… yes, Ausha as an automatic option for this! Ausha will automatically create a website for your podcast. 💻
The website is made with both potential listeners and SEO robots in mind. For example, for the humans you can customize the website with your brand colors. And for the search engine robots, Ausha automatically embeds all your episode descriptions so the robots can feast on keywords.
Plus, Ausha-made websites include call-to-actions like sign-up for email newsletters, links to leave reviews, etc. ✍️
Do-It-Yourself
If you aren't an Ausha member, this podcast marketing strategy is still important enough that you should try to do it yourself. Again, search engine optimization is critical for potential listeners to even know your podcast exists. And having a website is critical for SEO. 🎧
There are online services where you can use a template to build your website, though you usually have to pay for them.
As a general rule of thumb, the sooner you launch your website the better. Search engines give preference to websites that have been around a while, not ones that have just gotten their start. ⏰
Write Strong Episode Notes
Writing episodes notes may not seem like a podcast marketing strategy, but it is! Like we talked about above, SEO is critical to promote podcasts. To have high search engine optimization, you need good keywords presence. Episode notes are excellent places to include these target keywords. 🗝️
These notes should summarize what an episode is about– again, using keywords for your podcast. They should also include the names of any guests you have and their social links. These notes should also include your website and any other call-to-action links. These links act as "references" for search engines, increasing your SEO.
Remember, you are not just trying to please Google with your keywords and links. SEO also matters within listening platforms. For example, Apple podcast has its own search engine for podcasts inside its directory. By writing excellent episode notes, your podcast will pop up high in Apple Podcast search results when potential listeners type keywords related to your topics.🔍
Distribute to All Possible Platforms
In the above section, we talked about having good SEO inside podcast listening platforms, but if you do not distribute to a platform then you certainly are not going to pop up in its search results! That is why our next podcast marketing strategy is distribute to all possible podcast platforms. 🌍
In order to grow your audience, you need to be where your audience is. There are about 20 podcast listening platforms around the world. Your podcast needs to be on all of them.
And yes, Ausha automatically does this for you. 💃
Ausha automatically distributes each new podcast episode to every podcast platform out there: Apple Podcasts, Spotify, Deezer, YouTube, etc.
Of course, you can manually distribute your show via RSS feed to platforms, if you do not have an automated option like Ausha, it just takes a lot of time and effort. But it is worth it.
Not only do you want your show to be where the listeners are, you want to be able to gather as many positive reviews, SEO references links, and brand recognition spots as possible. That is why podcast distribution is such a key podcast marketing strategy. 👍
Develop a Podcast Email Newsletter
We have talked about making sure your podcast has a strong presence on social media, podcast platforms, and the general internet, but we still need to cover one other location: the inbox. 📩
An podcast email newsletter is a popular and effective podcast marketing strategy because it puts your podcast in a spot where most people go multiple times a day– their email.
Over time, collect email addresses through your website and calls-to-action. Then launch an email newsletter. That way your followers will feel like you are going the extra mile to give them even more content. 🥰
To entice people to sign up for your email newsletter, you can offer them bonus, private podcast episodes, if you want.
New Episode Alert
Even if you do not want to do a whole newsletter, at least send a quick email every time you release a new episode. Nothing complicated. Just a short note to let them know a delicious new episode awaits them.
Ausha does automate this kind of note for you. As soon as you publish a new episode, Ausha automatically sends a short and sweet email to your list, letting them know that the new episode is ready to listen to. 👋
Again, an automated marketing strategy that you don't even have to worry about!
Invite Guests to Your Episodes
When you invite a guest on your show, you are expanding your podcast's reach to your guest's network. As long as you do it right. 🤝
Make the experience a good one for your guest— make it as easy as possible for them to feel prepared and comfortable for recording. Then make it easy for them to share the podcast with their audience. Ideally you send them a specialized link to the episode, a social media post they can share, and an email they can forward or copy-and-paste.
Of course, your guest needs to be a good fit for your show. Not only do you want it to be a good experience for them, but you want to make sure that their audience is an target audience for your show. 🎯
For example, if your podcast is about bird-watching and their specialty is fantasy football, most of their audience probably won't become listeners of your podcast.
But, if their specialty is wildlife conservation, their audience is much more likely to become listeners of your show.
Be a Guest on Another Podcast
Just like hosting a guest on your show is a effective, free podcasting promotion strategy, being a guest on someone else's show is too. 🧑‍💼
Reach out to podcasters who are likely to have your target audience and ask if you can be on their show. In your ask, highlight what they will get out of it. Show how you will be an excellent fit for their podcast and offer to share the episode with your own audience.
Then, after going on the show, ensure the host shares your episode far and wide with their audience, including with links where listeners can find your podcast. 🙏
Final Word
Growing your podcast audience is within your control.
You just need to be smart and efficient with your marketing efforts– Whenever possible, automate how you create and distribute your promotion content. 💪
We hope this list helps you find what works best for you. As always, reach out to us if there is ever anything we can help you with– from launch, to creating content, to how best to promote podcasts… its our thing! 💜🧑‍🚀🪐
BOFU
Launch your podcast with Ausha
All-in-one platform to easily launch and grow your podcast.
Start for Free