You are starting to get your first listens, so it's time to take a closer look at your audience and analyze your podcast statistics.
Key data to monitor
The number of listens
(per episode, overall or by time period)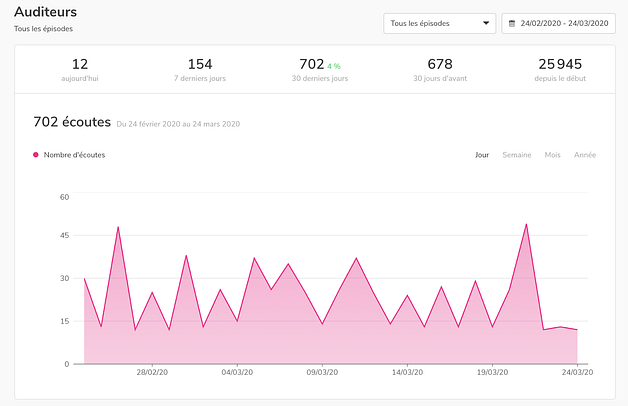 The number of times your episode has been played. It's also interesting to rank your episodes by number of plays to better understand what kind of content or guests attracted your audience the most.
Audience peaks
Know the day and time when your podcast is the most listened to!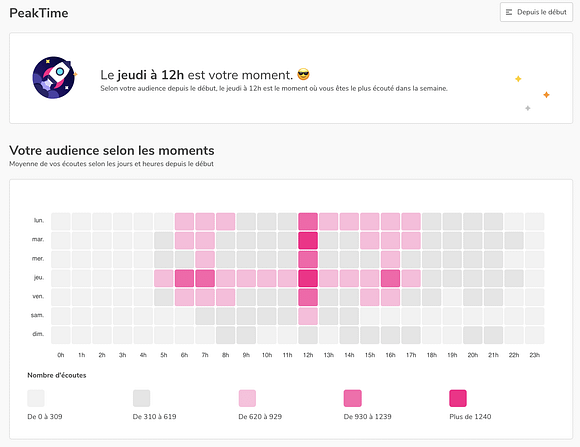 Number of subscribers
(When the listening platform allows it) Some platforms like Apple podcasts, Spotify or Soundcloud allow listeners to subscribe to your channel if they have an account on the platform.
Listening source by platform
(Apple podcasts, Spotify, Deezer, Soundcloud, Tunein, Podcastaddict…etc) To find out which listening platform your podcast is most listened to.
Listening source by device
(computer, mobile, tablet, connected watch…) To know on which type of device you are listened to the most. This can be an indicator as to where your audience is listening (at home or on the go).
Geolocation
What countries your listeners come from (obviously this will go hand in hand with the language you record your podcast in).
Completion Rate
(the average length of time listened to your episodes) To know how long your listeners spent listening to your episode. Useful to know if your podcast is too long or to adapt your content to make listeners want to listen longer. To date you can find this data directly in your iTunes connect and Spotify for podcasters accounts for each platform. This data is not yet available for aggregation by third party hosts like Ausha (but we're working on it 💪!).
Podcast ranking
(specific to Apple podcast) To know the position of your podcast in the rankings of Apple podcasts by category or on the global scale. Each category is limited to 200 podcasts. What we've noticed is that you can gain positions by publishing new episodes regularly.
Reviews and ratings
(specific to Apple podcast) Find all the ratings and reviews of your show. In the Ausha platform you can even create an email alert in case of a new review.
Data certification
Regarding podcast metrics, there is a certification from ACPM (The Alliance for Press and Media Numbers), an independent organization that standardizes podcast audience statistics according to a strict methodology. This allows podcasters, if they request it, to have their audience levels certified for potential advertisers (whose demand is growing). Thus, platforms following the ACPM calculation method (like Ausha) guarantee reliable and comparable data for advertisers.
Podcast Page Statistics
Finally, there is also the traffic data from your podcast website. At Ausha each hosted show can have a dedicated podcast webpage. You can track the traffic statistics of this site by applying a Google Analytics tracking ID and find all your data in your dashboard (visits, bounce rate …).