So what are these 4 steps to make your podcast take off to the next level! 🚀 They make up the Listener's Journey!
At Ausha, we don't like leaving things to chance.
So to keep you from simply crossing your fingers and hoping that your podcast will just work out, 🤞 we found a method to help turn your listeners into podcast ambassadors: the Listener's Journey.
Word of mouth is by far the best way for getting a podcast off the ground.
But for John to recommend your show to Peter, John needs to come across it, he has to want to listen to it, he has to like it and finally, he needs to take the time to send it to Peter.
In short, that's a lot of steps and a lot of opportunities for things to derail…🙄
The Listener's Journey: what is it?
The Listener's Journey is a process comprised of four steps you lead your listeners through with the goal of winning their loyalty.
Once these 4 steps are completed, your listeners naturally start to spread the word which will make your podcast take off!
The four main steps of the Listener's Journey are the following:
Awareness 👀: discovery of your podcast
Activation 🚀: getting that first listener
Retention 💜: gaining loyalty and the beginning of word of mouth
Analytics 📈 of communication operations and optimizing the stages of the Listener's Journey
At each stage of the Listener's Journey, a certain percentage of your target audience will drop out.
But the good news is that the remaining audience becomes more and more relevant.
The goal is to measure the efficiency of each step, to analyze and optimize them to the highest extent possible in order to limit the number of abandonments and to reach your overall objectives.
So follow these 4 steps to make your podcast take off! You won't regret it!
1st step: Awareness
Goal: To make your podcast visible everywhere.
The goal of this first step is to make your podcast visible to everyone.
You can make the best podcast in the world, but if you don't do everything you can to make it known, you won't get more than five listeners…(including your mother!) 👩
So, of course, a podcast's visibility comes down to an attractive cover, a catchy title and a well-written description. But that's not all!
The first thing to do to increase awareness of your podcast is to make it visible everywhere by broadcasting it widely on all listening platforms, including Youtube. ▶️
The meta descriptions of your show and episodes (tags, categories, title, etc.) must be carefully thought out since they're what allow you to achieve top rankings in search engines.
What about the Google search engine? Let's talk about that! 🤔
The SEO referencing of your podcast is another visibility lever you shouldn't neglect.
You can launch a website or a blog where you can transcribe your episodes or expand upon your subject.
Or you can also create social network accounts dedicated to your podcast to further optimize referencing.
---
An Ausha added benefit: When you upload your episodes on Ausha, a web page dedicated to your podcast is automatically generated. It has been designed with the goal of getting your podcast as optimized as possible on search engines.
---
2nd step: Activation
Goals: Encourage people to listen to your podcast and enrich the listening experience for your listeners.
Once your podcast is visible everywhere, next comes the teasing step. The goal here is to give a preview of your episodes to encourage listening. 😀
And what better way to give a taste of your podcast than with a trailer ?
As with a movie, you can select excerpts from your episodes, describe your concept around these excerpts and select music that represents your universe.
Basically, in just a few short minutes, you're making your listeners want to listen to your show. 🚀
---
A little tip: When uploading your audio file, you can identify it as a trailer. It'll then be promoted as such on listening platforms like Spotify, Apple Podcasts or Deezer.
---
Social networks are your best allies for encouraging first-time listeners to your show.
Video excerpts from your podcast, quotes from your guests, photos taken during interviews…the sky's the limit! Use your imagination! 😁
Finally, share a unique link (Smartlink) to your show or your new episode which connects to the various listening platforms containing your podcast. By making it easier to listen to, you'll gain an audience. 💪
3rd step: Retention
Goals: Make your podcast addictive to keep your listeners coming back.
How do you get one-time listeners to become lifelong listeners? In other words, how do you get them hooked on your podcast? 🤔
By structuring your show into seasons (with specials, for example) or playlists, you're encouraging your listeners to keep listening to your podcast.
"Feux Croisés" by Julie Alibaux & Virginie Bioret and "Superhéros" by Julien Cernobori are, for example, masters of the cliffhanger.
From the beginning of the first episode, we want to know what happens next, thanks to a very well-controlled element of suspense. 😉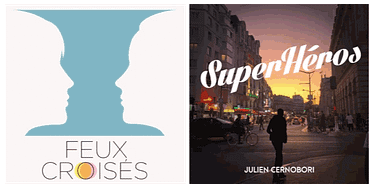 To reward your listeners for their loyalty or to thank them for their financial support via your Patreon, you can also offer them exclusive audio content through private playlists. 🔒
To convert your listeners into repeat listeners, they need to know that a new episode of your podcast is online. 📣
To accomplish this, social networks (Facebook, Instagram, Twitter and even LinkedIn) seem to be the ideal communication channels. ✨
Schedule your posts (automatically or manually) as soon as your episode is released and let your community know. 🌈
---
A little tip: If you want to take it a step further, a newsletter is also a way to quickly inform your subscribers on the release of an episode and turn your listeners into fans.
---
4th step: Analytics
Goal: Build an audience profile in order to better communicate with them.
By the time a listener reaches the final stage of the Listener's Journey, he or she has become an ambassador for your podcast. You've achieved your goal! Bravo! 💪 💪
Keep in mind, however, that each step just described is a filter. For each phase of the Listener's Journey, there's a variable dropout rate that needs to be minimized.
This is why analyzing the actions you've put in place for each of the previous steps is essential. 😃 It allows you to optimize them and minimize the risk of abandonment along the way.
Who are the people listening to you? Where do they come from? On which platforms do they tend to listen to you? How long do they listen to your episodes?
This information will allow you to establish personas which allow you to better address your audience through your podcast. 💪
Now that you know the 4 steps to make your podcast take off, you can follow them to grow and boost your podcast! 😀
By following this step-by-step Listener's Journey, you'll increase your chances of spreading the word about your podcast and increase your audience. 🚀
This framework also helps you build an effective communication and marketing strategy to get your podcast off the ground. Now it's your turn!
Independents
professionals
Launch your podcast with Ausha
All-in-one platform to easily launch and grow your podcast.
Start for Free