We've ranked some of the best podcast purposed mics and headphones for our leaders and listeners to get the most out of their recording session. 🚀 And with our team of unlimited hosting and sound experts, we know a thing or two about the best equipment for podcasting. 
What to look for when choosing the best headphones ? 🎧
Comfort: The obvious, if you're starting a podcast you're going to be wearing this a lot. 
Wired: How much do you like to be on the move? If you plan to dance with it, watch out for the wire. 💃
Echo: Let's hear one thing at a time shall we? Echoe-y sounds can be the first indicator of an amateur podcast.
Pop: Look out for the unnecessary annunciations of words with k's p's and pops. 
Audio Bleed: No need to leak your sound! Keep that clear, crisp, sound from start to finish. 
Accuracy: High quality's gotta come first! Make sure you and your guests are heard at 20 Hz – 20,000 Hz with clarity.
Will you choose an open or a close back ?
Another aspect to consider would be whether or not you are interested in a close or open backset. 🤔
Pros and cons of an open back 🖖
Straight Up Audio – But More External Noise
Comfier- But More Sound Bleeding
Sleek- Less Durable
Pros and cons of closed back ✋
Incredible Sound Cancellation- Slightly Bulkier
More Professional- Less Natural
Studio Favorites- Can Be More Expensive
With these factors in mind, we have narrowed down some of the best headphones for our Ausha users based on :
Price (budget vs. investment)
Overall winner
Our top 3
High-end luxury
Decide what kind of a podcaster you want to be today and what your main concerns are.
Best headphones with price in mind
Audio Technica ATH-M30x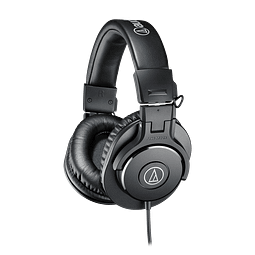 Our go-to for high-quality sound equipment for podcasters who are looking to watch their budget.
They have several models that vary in price but rack in at around $69.99 USD. Great durability, high value for the price, and median sound quality will definitely be worth the investment. The only cons reported are a semi unimpressive sound frequency pick-up.
Price: 69.99
Frequency response: 15- 20,000 Hz
Sensitivity: 96 dB
Beyerdynamic DT 770 Pro
EXTRA Budget-Friendly Option. It's surprisingly sturdy but don't expect them to stick around forever. Easy and compact for traveling shows and with padded comfort. Simple, straightforward, great basic features. FANTASTIC for beginners or anyone looking to just dip their toe into their world of podcasting. 
Price: 22.00 on AMAZON
Frequency Range: 18Hz – 22KHz
Sensitivity: 96 dB
OneOdio
Most efficient, straightforward headphones you can find. A mixture of both medium-level comfort, durability, and sustainability. Some have stated these even compete with the big-budget headphones over the long haul. Matte black pads and glossed headband offer a dynamic duo and is suitable for all recording needs.
Price: 32.00 on AMAZON
Frequency Range: 20Hz-40KHz
Sensitivity:110dB +- 3dB
Best investment headphones
With a boom-mounted mic, it is pretty hard to not feel like a professional with this set. Designed specifically for broadcasting, this set puts sound first. Neodymium magnets for high output level & detailed sound reproduction, on the go capabilities, and an excellent seal against unwanted background noise. Ron Swanson approved. 
Price: $250
Frequency Range: 600 – 1000 Hz
Sensitivity: 100dB
Experts connect right to mobile and home devices. Sleek, professional, sexy even? An Ausha favorite. Open-back, dynamic headphones that capture perfect sound, emotions, and energy exchange, all with expert technology and high-class design. If you want to be the ultimate podcaster and have already been bringing in the big bucks from brand partnerships and deals, this is the pair of headphones for you.
Price: $594
Frequency Range: 10 – 41,000 Hz
Sensitivity: 104 dB
Best headphones for comfort and quality
Known for their sonic boom potential, these headphones bring out an incredibly robust and clear definition in sound that is well-rounded and clean. May be hard to find on Amazon but a STEAL once captured. They're great if you have been doing this for a couple of years or so or really want to step up your game.
Price: $99 ON SALE NOW
Frequency Range: (16Hz – 20kHz)
Sensitivity: 100 dB
All around winners
SkullCandy Grind Bluetooth Wireless
Also on the budget side, these headphones are both sleek and portable. They can be multipurpose into your daily life and were made specifically for those who want high-quality sound experiences. The noise-canceling effects still make for plush ear pads and 12-hour battery life.
Price: $59
Frequency Range: (14Hz – 18kHz)
Sensitivity: 92 dB
Shure SRH840A
Its reputable name is well respected and honored, and is designed primarily for the studio. Aesthetically pleasing, closed back. Great for both producing and editing, and preferred by even top musicians and audio engineers. They're easy to adjust and boast a long life with a lightweight design. All in all. Classic.
Price: $130 ON SALE NOW
Frequency Range: (5 Hz – 25 kHz)
Sensitivity: 102 dB
AKG K 240
AKG's are well-known headphones used by iconic artists and sound engineers so that they can be confident in their quality. 
These professional-level, wired, over-ear headphones have a wide dynamic range and impressive audio accuracy. The AKG K 240's function well for spoken word, and because of the quality and the detachable cord feature, you'll likely use this pair for years before needing a new set.
Price: $124
Frequency Range: (5 Hz – 25 kHz)
Sensitivity: 102 dB
Most luxurious
Beyerdynamic DT 100
Truly what they mean by bang for your buck. An incredible investment, and a sturdy and amazing approach to stepping into the world of podcasting. Great for both video interviews and digital online calls, these headphones are incredible for isolation and sound technique. The clarity, peace, of mind, and recyclability of certain parts make these the most elite and effective headphones. 
Price: $338
Frequency Range: (3-20 kHz)
Sensitivity: 98 dB
Best for travel
Truly, when all else fails, don't discount the trusty Apple Airpods and Wired devices. Many celebrities and professional podcast hosts have used these in addition to simplistic pop-up mics that are still able to capture their imaging and voice without breaking the bank or forcing you to pay extra for your carry-on luggage. Comfortable, noise-canceling, immersive sound, and water resistance. It's a pocket-sized no brainer.
Price: $119
Frequency Range: (10-100 kHz)
Sensitivity: 101 dB
Bose SoundLink Wireless
Bluetooth capabilities, wireless, multifunctional headphones that are designed to go wherever you roam. 20 hours of battery life, not to mention these are some of the most stylish pairs we have found. 
Price: $160
Frequency Range: (15-2500 kHz)
Sensitivity: 100 dB
If I had to pick our top 3
Sony MDR7506
Fold over, low weight, affordability, and closed back. Highs are high and lows extended. Plus, the reasonable price truly sets them apart. Professionals have reported keeping these bad boys around for up to 25 years!
Price: $95
Frequency Range: (10-20kHz)
Sensitivity: 98 dB
V-MODA M-100
On the higher end, but much more balanced, and you can personally separate the bass tones for optimal listening. Plus, with vegan leather cushion ear pads and matte black flexible adjustments, this is the Bentley of headphones. Clear, crisp, fantastic sound quality, great for long hours in the studio, or at home. You can even opt in to personally engrave your signature pair. 
Price: $250
Frequency Range: (15-2500 kHz)
Sensitivity: 101 dB
Grado Prestige Series SR325e Headphones
Spatially arranged with Vintage Design. Vocals display and respond beautifully, classy look with easy listening. It may be a bit high-priced for beginners, but the effortless packaging and radio-esque inspo will allow you to curate the kind of content you really want.
Price: $250
Frequency Range: (18-24kHz)
Sensitivity: 98 dB
While these may be some of our favorite picks, Ausha is in support of all headphones and their endeavors. We keep this list rotating so make sure to check back, ask your friends, and dive into the sound stage with curiosity and zest!
Why your audio equipment matters
The wonderful thing about deciding to start your own podcast is the ability to create, show off your talents, and create a community. It's both mesmerizing, fantastic, and efficient in moving into the next era of entertainment. Not to mention the connection you can create around the world with such a platform.
Might as well invest in quality production equipment to get your and others' stories out there.
No Matter What..
In the long run, your business will continue to grow and evolve, just like your technology. Don't feel pressured to buy the biggest and best gear right upfront. Take it slow, make mistakes, be curious, and be bold. Curate a sound that is all your own without ever bending to the status quo.
No matter where you are starting in your podcast journey, know that Ausha has your back. With digital efficiency, unlimited hosting, and a straightforward monetization strategy, Ausha takes your sound from simple to success. Building a platform and a community. 
Make some noise with us.
Independents
professionals