A podcast desk or table is probably the most underrated piece of podcasting equipment. 🤓
In this blog post, we are going to give it some well-deserved attention. First we will go over the key characteristics to look for in a podcast desk or table. Then we will take a look at five examples of good products to consider. 🚀
Key Characteristics in a Podcast Desk
Whether you are dumpster diving for a free, second-hand table, or you are perusing Amazon with a nice big budget, there are three characteristics to keep in mind when you view your options.
Size 📐
The first thing to think about when selecting a podcast desk is size.
Obviously, the desk or table needs to fit in your studio space. Just like any other furniture, it also needs to fit through the doorways/stairwells/elevators of your home to get where it needs to go.
You know the Friends scene where they are moving a couch and Ross keeps yelling "Pivot"? Yes, those are the scenarios we are trying to help you avoid. 😂
Always measure and then measure again. And before you purchase… measure again.
Size also has to do with the format of your show.
If you want to do a video format, you need to calculate the room space needed in order for your camera to sit far back enough to capture everything you want it to capture. 📹
If you are doing a show with guests, you need to make sure there is enough space around the table in order to be accessible to everyone. 🧑‍🦽
Soundness 💪
Movement causes unwanted sound. You do not want podcast desks or tables that are going to move easily: No squeaking, no off balance rocking back and forth. Your podcasting desk or table should be sturdy enough to take a bump and not move much. 🏋
You also want your podcast desk or table to be able to secure whatever microphones and stands you plan on using. If you are going to attach heavy boom stands, you need to make sure you desk or table are heavy enough and shaped in a way to support them.
The tabletop also needs to absorb sound as much as possible. That is why wood is often preferred choice of material. 🪵
However, there are also plenty of desks and tables made from metal and synthetic material that are also ok at buffering sound. 👌
Cords, cords, cords 🔌
Your computer power cord, mic cable(s), headphone cable, and USB cords for all your recording accessories… there are a lot of cords involved in podcasting! Whatever desk or table you chose, it needs to be friendly towards cords and make cord organizing easy.
Typically that means holes in the desk or table… so if you are going the free, second-hand route, be sure to get something that is relatively easy to drill holes through. 🧰
Ok… enough talk about drilling holes. Let's look at professionally made products! ⤵️
Gator Frameworks Content Creator Desk 🐊
Gator Frameworks specializes in office furniture for recording studios. They made this desk for as a "space-saving ergonomic workstation for podcasts, broadcasts, content creation, gaming, streaming, & home recording." 😎
This desk has a metal frame and a black finish. It is designed for a single user.
It has a double-level platform design plus a slide-out computer keyboard tray that can double as storage for a MIDI Controller.
The desk also has pre-bore holes for surface mounting Gator Frameworks' desktop microphones' boom arms. 🦾
Dimensions: 43 inches (length) x 36.5 inches (width) x 38.25 inches (height).
Warranty: Yes
Price: $339.99 plus shipping
Podcast Tables Modular Sets 🧩
You cannot beat the name of this company: "Podcast Tables." They make modular tables– individual tables that can fit together to make a nice semi-circle structure for group podcasting. 🌈
Each individual table is equipped with "an outlet with 2 USB charging ports, 9 cable clips, and 4 desk grommets for cord and cable management."
The legs and frames are made out of metal with a black finish. The tops are made out of thick, butcherblock wood with different stains to choose from. 🟫
They are generally sold as a set of three or four modular tables.
Dimensions (for an individual modular table): 18 inches/36 inches (length) x 25 inches (width) x 30 inches (height)
Warranty: None listed
Price: 3-piece sets range from $1,999 to $2,569.
AKADesign's ProCast R5 🎙️
AKA Design's is a well-established company that designs and manufactures technical equipment for the audio industry. Their ProCast series is specifically designed for podcast recording. 😍
AKA inserts acoustic panels right into the central part of each user's space on the tabletop, reducing reverb and enhancing the acoustics. They also build in cable management and arm position setups. They make their products with adjustable heights, controlled by a small electric motor, so you can stand while working on this one if you want.
The Procast R5 product is built for five users. It has a skinny horseshoe shape, making it very video-friendly. 🧲
Dimensions: 78 inches (length) x 44 inches (width) x adjustable height
Warranty: None listed
Price (plus shipping): $3,000
Omnirax Podcast 3 🎛️
Founded in 1985, Omnirax is a production furniture company that manufactures their products in the US. 🇺🇲
They have a category called "podcast workstations" that has a few different models.
The Omnirax Podcast 3 product is a compact, triangular table, meant for three users. It is made of High Pressure Laminate material with black wedge tee-molded edges. It has a rack cabinet built in, with a pop-off back panel and two openings in the table top for cord management.
There is an option to buy a YellowTec m!ka mic boom system along with the workstation so you have three microphone boom arms that you know will work fit perfectly with the tabletop. 🏗️
You can purchase a sit-down model or a stand-up model.
Dimensions: 80.3 inches (length) × 58.2 inches (width) x 29.5 inches (height of sit-down model)
Warranty: None listed
Price: $2,859
Thomann ComboDesk ⚙️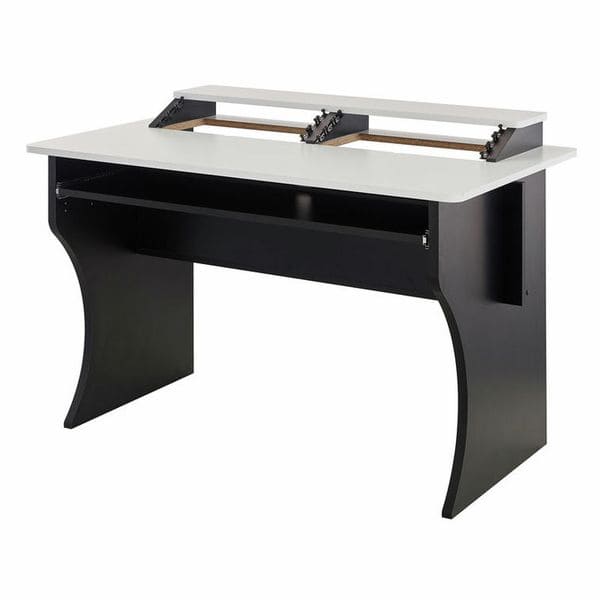 Thomann is a long established, respected audio studio furniture manufacturer. This ComboDesk was actually co-designed by Zoar, another well-known audio furniture company.
The ComboDesk product is perfect for the solo podcaster who is still very cramped for space, but wants to a professional, reliable podcasting station. The model comes in white and black. ⚪⚫
It has three spacious levels: a worktop, a desktop, and a large retractable keyboard shelf that can be adjusted for height. There are spaces for hardware racks between the worktop and desktop, but if you do not use that kind of hardware, there are covering plates so you can use that space as part of your desktop.
For all your cords, the ComboDesk has various cable entry options and cable recess on the rear side. ➰
Dimensions: 49 inches (length) x 28 inches (width) x 33.5 inches (height)
Warranty: 3 years.
Price (shipping is free): $400
Final Thoughts on Choosing a Podcast Desk
Like we always recommend on this blog, be sure to do your research before you make your purchase. 🧑‍💻
Look at customer reviews of the product across different websites (the manufacturer's website, store websites, Amazon, furniture/podcast gear review websites).
Also be sure to look at the company's rating for customer service. You may not think that you will need to contact a company for something as simple as a desk or a table, but you might. 📞
Every product that we have reviewed in this blog post requires assembly. Some even have complicated parts like motors to adjust the desk of table between sit and stand mode. If something goes wrong, you are going to need to contact customer service.
And finally, remember that you are going to spend hours at this podcast desk. Your comfort does matter when it comes to the longevity and sustainability of your show. Ergonomics does too. Choose one that will bring you joy! 💜
Launch your podcast with Ausha
All-in-one platform to easily launch and grow your podcast.
Start for Free