Having a clear and well-planned podcast launch strategy will help you reach your target market so that you can grow your podcast, and can continue to create great content for your audience.
You can see that there are a countless number of interesting programs available today.
But you can't help feeling, however, that you would also have something worthwhile to offer if you were to get behind the mic. 🎙️
So that podcast on Latin chants you've been searching high and low for over the last few weeks: Why not create it yourself?
Taking the first step is the hardest part! 💪
How to create a podcast from start to finish? 🚦 ➡️ 🏁
What are the steps involved in creating a program?
What equipment do you need? 🎧
How can you achieve all of this?
With your podcast launch strategy!
There are 10 steps in the podcast launch strategy that you should follow to make sure that you have the best show out there!
But what exactly is a podcast launch strategy? 🤔
Well, it's basically a plan that you can create that includes how to develop the concept of your podcast, how to record your podcast, and how to promote your podcast… basically everything you need to know to start your podcast.
It also helps you step by step from pre-launch to post-launch to make sure that you don't miss anything important! ⚠️
From recording your podcast to marketing your podcast towards your target audience, to trying to grow your podcast's brand identity…
… keep reading to find out everything you need to know to create an amazing show with your podcast launch strategy, that will keep listeners coming back for more! 👇
Defining the concept behind your podcast
Having a great idea for a podcast is fine, but having a precisely defined concept for your podcast is even better! 👍
Let's begin with what's most important: A good podcast is a regularly scheduled one.
Before getting started, make sure you have enough to say to fill several episodes.
Once you've settled on your idea, define your overall approach by asking yourself some questions:
Do you want to present your program together with another person?
Will it be in interview form or monologue based?
If you do interviews, how will you find the guests for your show?
How long will your episodes be? ⏱️
Would you prefer a long format (40 minutes to one hour), a short format (5 to 10 minutes) or something between the two (10 to 40 minutes)?
How often do you think you'll be able to broadcast new episodes on a regular basis (once a month, once a week)? 🗓️
Will you need to produce a preview to explain your concept?
This of course all adds up to a lot of questions. But it's by tackling them one by one and coming up with precise answers that your podcast will gradually begin to take shape.
Another thing to highly consider is the brand identity of your podcast. But more on that later. ⌚
You'll want to think of how your podcast can be transformed into a brand, and how your show's values can be reflected in that brand.
For example, what will the theme of your podcast be and how will you promote it to your audience?
What marketing strategy will you use to get your listeners' attention?
How will you create content that reflects your brand and that will also appeal to your audience?
Even more questions, I know… but by answering them you will have a clear plan for your podcast which will allow you to create content that your audience will love! 😃
One last thing to decide before you start producing your program, is what you're going to name your podcast.
Tip: Don't restrict your options by choosing a name that's too narrow in scope.
You're going to change and develop as the months and years go by, and so is your podcast.
The range of topics you tackle may therefore broaden or alter a little depending on what you're interested in or thinking about at any given time.
Producing high quality audio
Having impeccable audio is an essential part of producing a good quality podcast.
It can often be very difficult to concentrate on the content if the form isn't perfect.
The microphones on today's phones work well enough to use for your initial recording attempts. 📲
If you want to maximize your chances of sending your podcast to the top of the download rankings, however, it might be a good idea to invest in a proper microphone. 🎙️
There are several different types available, with each designed to serve a particular need:
If you want a fixed mic so you can record talks and interviews indoors, go for a Bird UM ($60) or a Blue Yeti ($100), which are an excellent way to get started without having to spend a huge amount of money.
If you prefer the idea of investing in portable equipment so you can record audio outdoors, the Micro Zoom H5 ($300) is a good alternative.
There's also a wide variety of clip-on mics available, which offer the huge advantage of connecting directly to your smartphone.
You don't need to start spending crazy money to create your first podcast. 💸
You can always add to your equipment later on down the road. 🛣️
A good mic, a PC or laptop, and somewhere free from echoes are all you need to produce high quality audio.
Writing the script for your first episode
The classic error you want to avoid at this stage is that of simply diving headfirst into recording your first episode.
Before even pressing the red button, it's absolutely essential to write a script for your podcast so that you already have the structure of your episode firmly in mind.
Consider it like writing an outline for an essay. 📝
An interview, for example, might be structured as follows:
Introduction (introduce yourself to your listeners; introduce your guest within the framework of the interview; and quickly remind your audience what the concept behind your podcast is)
First part of your podcast
Second part of your podcast
Quick recap of the episode
Conclusion and thanking your guest; and your listeners too, for staying with your podcast through to the end
Calls-to-action (ask your listeners to give the episode good ratings on the listening platforms)
This example is of course not 100% applicable to every case.
To make your episodes as clear and easy to understand as possible, you'll need to adapt it to your concept and podcast.
If you happen to be one of those people who feel they need to write their entire episode in advance, try not to be too literal, and read your script out loud before you record it. 🗣️
Recording your first episode
The big day has arrived!
After several weeks spent refining the concept behind your podcast, you're now ready to record and produce it.
Before pressing "Record", make sure you already have recording software installed on your computer. 💻
The best known and most widely used by podcasters is Audacity.
Available for Windows, Linux and Mac, it's an easy package to get to a grip on.
Alternatively, and if you use Apple products, you can use GarageBand (which is also free) or even iMovie (installed by default on your computer).
Carefully check all plugs and connections before you start recording your episode.
The frustration of beginning an interview and then realizing halfway through that the mic isn't working for you or your guests, and hasn't been since the start, is all too familiar. 😢
Editing your first episode
Once your recording is in the bag, you'll need to chop and change it a little to make it as fluid and enjoyable to listen to as possible.
This involves removing gaps and hesitations, and getting rid of annoying "umms."
You can edit your podcast episode with the same software you used to record it, i.e. Audacity or GarageBand.
It's at this stage that you can add music, at the beginning, middle, or end of your podcast. 🎶
If you're working with a small budget, YouTube Audio Library and the Fugue website have a selection of license-free music you can download free of charge.
You can also buy original music to use in your podcast on the AudioJungle and Universal Music Library platforms.
A little tip: Our podcasters at Ausha get access to more than 500 license-free music tracks to use in their podcasts. 🎵
If you've found a business that wants to put ads in your podcast, you'll need to edit those in as well, depending on the type of ad.
For example, if you have host-read ads, you will record them directly into your show.
But if you have pre-roll or post-roll ads, you edit them into the beginning or end of your podcast.
With Ausha though, you just have to upload the audio file and it will automatically be added as pre-roll or post-roll ads depending on what you chose. 👌
Hosting your podcast
Your podcast is finally ready to be presented to the rest of the world!
The next step of your podcast launch strategy consists of uploading your program to a platform so that anyone in the world can access it from their favorite listening platform (such as Spotify, Deezer, Apple Podcasts, etc.).
Enter your metadata (name, description, cover, tags, etc.), then upload your first episode following the same very simple steps (name, description and cover of your episode).
As with a TV series, you'll need to choose the season to which you want to add the episode, or categorize it as a "trailer" if that's what you want .
And that's it!
Your program is created and your first episode is now hosted on Ausha, ready to be broadcast to the entire world!
Soon, your childhood friend who moved to France will be able to listen to your program from their favorite podcast app. 🌎 Isn't technology fantastic?
Distributing your podcast
Once your podcast is hosted on Ausha, an RSS feed for your program is generated automatically.
This feed (in the form of a link) serves as a kind of ID card for your podcast.
Everything you entered and provided when creating your program on Ausha (i.e. the name, the description, the cover and the audio file for each episode) will be sent automatically to the listening platforms you choose to add your podcast to.
Our hosting platform is now connected to a large number of platforms (Spotify, Deezer, Apple Podcasts, Podcast Addict, Stitcher and YouTube).
Therefore, you don't need to manually upload your podcast to each of these apps and services.
All you need to do is simply click once from your dashboard to send your program to an already existing catalog of these platforms.
Ausha takes care of everything! 💜
Receiving your first feedback
Your first episode is now finally available to listen to! 🎧
It's time to start telling others about it and sharing it with friends and family.
Though not the easiest step of your podcast launch strategy, it's an absolutely essential one.
Bear in mind that a podcast is put together like a TV series. And just like a series, there is always an initial pilot episode, which afterward, characters and parts of the story get improved, altered, corrected or even entirely removed.
It's the same with your podcast.
Collect as much constructive feedback as you can; send your episode to people with a keen interest in the subject matter; listen and re-listen to your episode, keeping an ear out for the slightest imperfection… and seek to improve!
People too often forget to emphasize just how much time is involved in creating a podcast. ⏳
Try listening to the very first and the very latest episodes of your favorite podcast today and you'll notice that it's hugely improved!
Yours can work the same way! The more listeners that you reach over time, the more feedback you can get.
And with this feedback you can plan changes to your show, which will help improve the quality of your show. 📈
Marketing your podcast
The challenge today is no longer about creating the podcast, but about getting it visible. 👀
This is why marketing your podcast is a key step in your podcast launch strategy. 🗝️
You'll need to know the right way to promote your podcast, or else it won't get many listeners.
And you would of course promote your business, so why not do the same for your podcast!
If you simply produce audio content and publish it on listening platforms, you'll never manage to build a real audience.
You need to have a marketing strategy to get your brand identity across to potential listeners, to make them want to press play! ▶️
To develop the brand identity for your podcast, begin by defining the entire concept around it.
Your responses will guide you in building your podcast's brand identity:
Its mission
Its purpose
Its values
Your audience
The overall tone
Once your program has a properly defined concept behind it, make it visible across as many forms of media as possible:
On your social media: 📱
With Ausha auto-sharing on the Social Media Manager, your episode is automatically shared on Instagram, Twitter, Facebook and LinkedIn.
Here you can post great content to reach your target audience, that they can share with their followers, to make your audience grow. 🌱
Make sure that what you post is promotional, but don't post too many things that seem like "ads" for your show.
Your content should be mixed, so have a few posts in the form of "ads" for your show, and the rest more entertaining – like snackable content. 🍿
Snackable content is easy to consume content for social media that you post in between the release of your podcast episodes. Some examples are: memes, gifs, or short videos.
On Google: 🖥️
Easily optimize your podcast for search engines by creating a blog or a website, or with an Ausha SEO-optimized web page.
Having a website will let your audience learn more about your show.
It's great for your SEO, so that when people Google the topic of your podcast, if you have an SEO-optimized website, you could be among the top search results. 👍
With your community: 💌
By sending a newsletter to your subscribers' email addresses, which you can set up on Ausha.
By sending an email each time a new episode is released, you can be more sure that your audience will listen to your new episode.
If you create video content, 📹 for example Youtube videos, you can also share that link with your subscribers in the newsletter, which is great for promoting your show.
Really take advantage of being able to contact your subscribers directly by email, if you have new content that you want to tell them about or time sensitive information to share with them.
For example, a promo code for a business that has decided to sponsor you!
In the media: 🔗
By sharing a unique link to your program (such as an Ausha Smartlink)with magazines and newspapers that cover the topic of your podcast.
This can help your exact target audience learn about your podcast, thus making your audience grow.
Because by going directly to a media that your target audience uses, you are sure to reach them.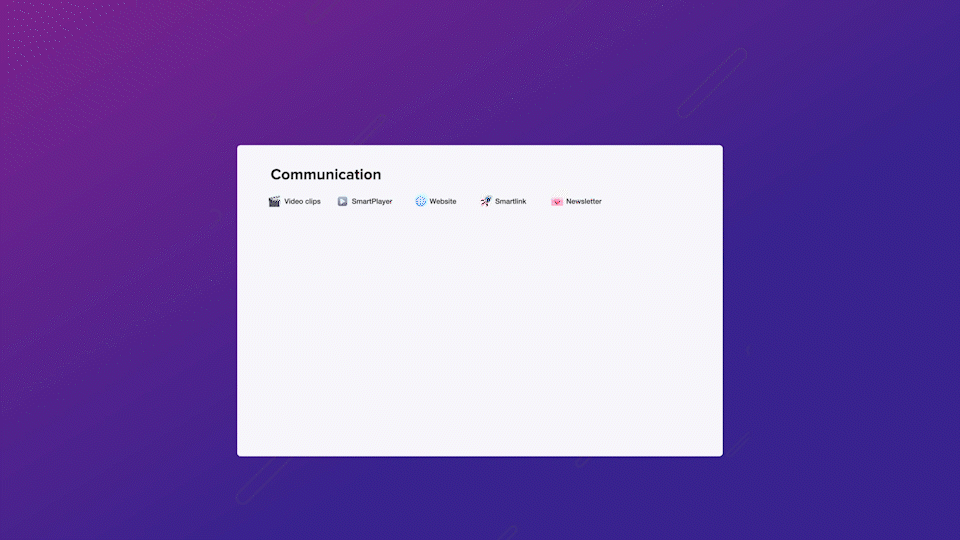 And because video is a much more effective means of communication and conversion than a simple image, convert an extract from your podcast into a video clip.
Ausha allows you to then customize it and bring it perfectly into line with your overall podcast concept, as well as add subtitles to it. ⌨️
And finally, to ensure your podcast is easy to find in an already packed catalog, you'll need to make use of recommendations.
Talk about it as often as possible to people you know, and encourage your audience to give it a high rating in listening apps. ⭐
And share your Smartlink as much as possible, in a post, or on social media, so that you can reach your target market 🎯 and grow your podcast.
At Ausha, we know that marketing a podcast is time consuming, as every episode you publish needs to be accompanied by a marketing plan.
For each publication, you have to also publish AT LEAST one post on social media (and publish them at the right time) and write a newsletter to send to your subscribers, etc.
But be sure to determine which social media platforms your audience is using the most, and post more content there (but don't only use that one platform of course).
You don't for example want to post all your content on LinkedIn when most of your audience uses Facebook. 😵‍💫
Podcasters receiving 5,000 listens per month use six different marketing tools on average.
To save time AND money, launch your entire marketing plan automatically from Ausha as soon as a new episode of your podcast is released.
With just a few clicks:
Your video clip is created and subtitled 📹
Your social media posts are set up and scheduled 📱
Your newsletter is ready to be sent out 💌
Your website is generated 💻
After you've completed all these marketing steps, you can reach out to Apple Podcasts (formally iTunes), and try and get yourself on their featured list.
This can take some time, but it's a great part of your podcasting strategy, so that you can grow your podcast as much as possible.
And when you're featured on the Apple Podcasts ranking list, it allows you to not only reach your target audience, but also to be exposed to others that may not find your podcast another way.
All of this can help with the promotion of your podcast, to ensure that your audience will grow.
Stand by for hundreds of downloads! 😁
P.S. One of the key takeaways when you create your podcast launch strategy is to post a lot of content on social media to promote your show.
This will help you reach your target podcast audience and they can then share your content to reach new listeners.
Analyzing your results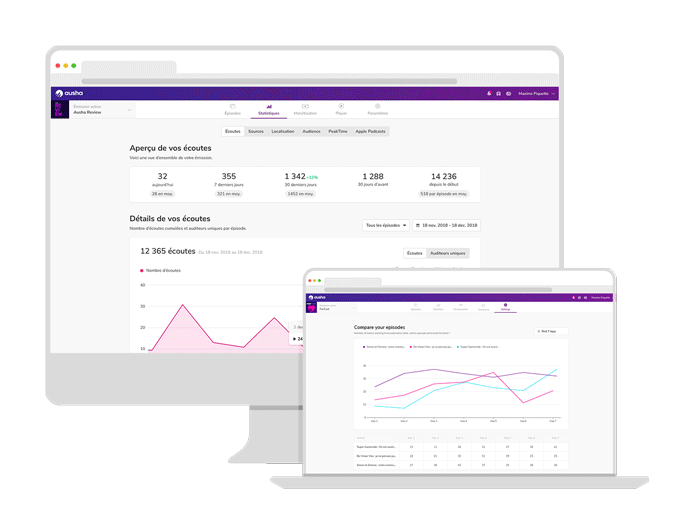 The statistics available on your dashboard enable you to track the progress of your audience in real time. 📊
The most important data are undoubtedly the number of downloads per day, per episode, per platform and per program.
At Ausha, our team works hard every day to provide you with as much detail about the downloads your podcast receives as possible, as well as regularly introducing new features to help you refine your results. 👌
This enables you to track your position in the Apple Podcasts rankings list, obtain an overall view of the downloads your podcast receives right from the first few hours it's available, and analyze the best time to release a new episode. 🤯
This data will enable you to improve your program with respect to its format (too short or too long) and in terms of what time to publish each new episode and which are the best platforms for collecting more reviews, for example.
And finally, what could be better for measuring your success than by comparing your first episodes with the ones you've just released?
On Ausha, you can select several episodes at the same time and analyze both how they perform when first released and how they're progressing at day 1, day 7… all the way up to day 90.
This gives you a good way to understand your audience and see what really works well and what could be improved.
And because it's essential to really know your audience if you want to adapt to what your listeners want and provide them with content they like, don't forget to pay attention to demographic data such as age, sex, geographic location, the time and date your listeners listen to your podcast, etc.
You'll find all this data available on your Ausha dashboard. 💜
This means you'll be able to see your program gain listeners as the weeks and months go by!
One more thing about your podcast launch strategy: 👈
We might even add a final step to the process of creating a podcast: being into what you're doing!
Because fascinating podcast episodes are always presented by people with a passionate interest in their chosen topic. Being into what you're doing is the key to creating a good, quality episode.
A podcaster who loves what they're doing will always make people more eager to listen! 👂
It's also great to have guests that share the same passion on a certain topic, so that your interviews are sure to grow your audience.
The last thing you want are guests that don't have anything interesting to contribute to the interview and that don't really relate to your target podcast audience. 🚫
That's one way you can make sure you will lose the attention of your audience, because people don't normally want to listen to a podcast where they don't feel like they're gaining something from listening to it.
To sum up:
There can be so many ways for you to up your podcasting game. 🏈
Make sure that you're creating high-quality content that your audience will enjoy, whether it be your podcast episode, social media posts, or a Youtube video based on your show.
Having a podcast launch strategy can help you achieve this, because you can plan how you will create and promote your podcast right from the start! 🚦
It also lets you grow your podcast audience by improving your SEO so you can appear at the top of the search results on Google. 🔍
And finally, it can help you grow your podcast brand, through promotion and marketing, to ensure your show is as successful as possible.
So get going and start on your podcast launch strategy now! That content isn't going to create itself! 😉
Independents
professionals