Have you just created your first podcast? Is it recorded, pieced together and ready to be shared with the entire world? Now comes the big question. How do I host and distribute my podcast?First, you'll need to host your audio file so that it's online. Then, as a second step, you'll need to distribute it on platforms to make it visible to everyone. But how do you find your way in this podcast jungle? We'll tell you.
Host a podcast for free
MacGyver mode.
Hosting your podcast on Archive.org: The principle of Archive.org is simple: to assemble a huge online library.
The site provides free hosting for your audio files and, in exchange, you allow them to be accessed by everyone. All you need to do is create an account and upload your podcasts.
Hosting your podcast with Google Drive: Google Drive can be the perfect choice for hosting your podcast for free.
The only prerequisite is having a Google account, so it's not that difficult. The rest is just as simple: create a new folder and drop in your MP3 file.
Also remember to turn on the share settings so that everyone can download and listen to your podcast.
The main advantage of these solutions is that they're free, but choosing them has limitations and can be impractical, especially if you plan to expand your podcasting.
In the long run, other alternatives may be better. You may need to turn to paid platforms specialized in podcast hosting, a method favored by many podcasters.
Host a podcast with a hosting platform
Rambo mode.
Hosting your podcast on Ausha: The other solution is to use a specialized service, like our podcast hosting platform, Ausha. The process will be simpler and more convenient. 
Indeed, an interface like ours is designed to allow you to easily send your audio files.
First, you'll create your show and attach all the relevant information (description, category, cover, etc.). It's in this "show" space where you'll then add your podcast episodes. Here, you'll be guided step by step.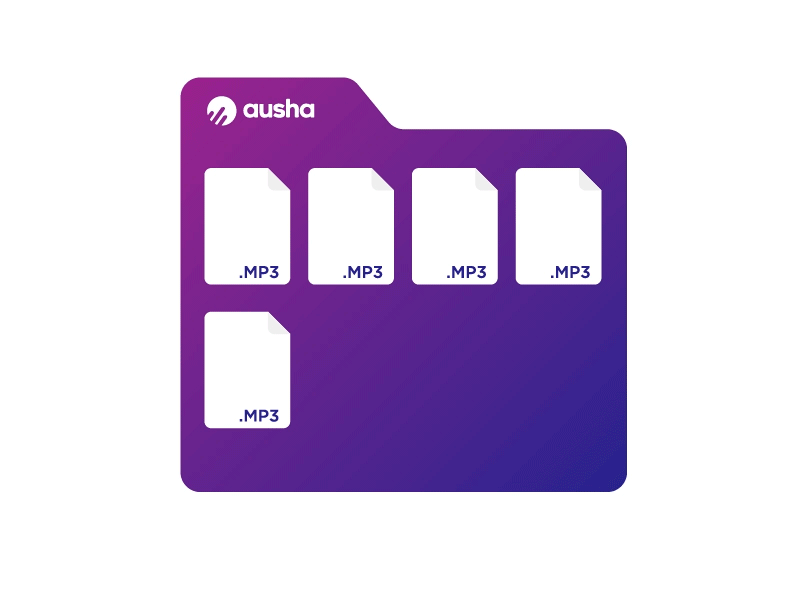 Beyond its simplicity, using a hosting service like this ensures greater security. Backups are provided in case of problems.
The other great feature of this type of podcast platform is the ability to obtain statistics on your podcast (number of downloads within a certain timeframe, location of your listeners, etc.).
You'll even get some additional services (help sharing on social networks, creation of a listening widget for your website, etc.) and above all, it allows you to easily generate a podcast RSS feed.
Hosting your podcast on a web server: The most technical solution is to host your podcast by renting a web server.
You'll need to decide on the service you want to use (OVH, Online…) and choose the size of this server (depending on the number of episodes your podcast contains and the length of your episodes).
In choosing this method, you won't receive podcast statistics summarizing your podcast activity (number of downloads, location, etc.) or additional services (links to social networks, listening widgets for your podcast, etc.).
This "homemade" alternative offers fewer advantages than going through a hosting service designed for podcasts. However, it's sometimes less costly...
OVH offers web hosting from $1.49/month, for example.
Where to publish your podcast?
Many platforms and apps exist for distributing your podcast. You can choose to be on all of them or only on the ones you think are relevant for your content.
Some services will add your podcast to their catalog automatically while others will require action on your part.

Here's an overview of the listening platforms as well ways to submit your podcast.
iTunes/Apple Podcasts: To make your podcast available on iTunes you'll need an iTunes Connect account and the RSS feed for your podcast. It takes about three days for your podcast to show up in the Apple library.
Applications where you only need to supply your RSS feed :
Castbox (directly in the application)

PocketCasts

(paid application, RSS feed to be supplied)

Podcast Addict

(directly in the application)

Podcast Republic

(directly in the application)

Acast

(RSS feed to be supplied in the "Non-Hosted Show" section)
Platforms that automatically retrieve your feed from iTunes:
AntennaPod

BeyondPod
Castback
Podcast go
Podchaser
Podyssey
RadioPublic
The particular case of Google Podcasts: You can't submit your podcast, but it will automatically show up in the app's catalog if your RSS feed is properly indexed in Google. 
However and wherever you decide to host and publish your podcast, the most important thing is that you do it consistently. Both the search engines on listening platforms and the listeners themselves prefer episodes that released regularly. Feel free to check out our free podcast planner to help you achieve this!
Ausha, the only podcast marketing platform that helps you grow your podcast
14 day trial • No credit card needed
Independents
professionals
Launch your podcast with Ausha
All-in-one platform to easily launch and grow your podcast.
Start for Free