It is certainly not you, podcasters, who will learn about the phenomenal boom 🔥 of the podcast in recent years. There are more and more of them created every day and even every hour.
In fact, as we speak, new shows have just appeared on Apple Podcasts and Spotify. And while podcast listeners may technically be aware of many different shows about the same topic, they don't actually have the time to listen to them all.
With a very attractive cover, you may boost your listenings very quickly. However, there are some directories to follow so that you have a perfect podcast cover art ! 🚀
Pay attention to your artwork size
There's no need to discuss here : a podcast cover must be square. 🔲 Not rectangle or round. Square. And no matter what listening platform you use, the cover will always be like this.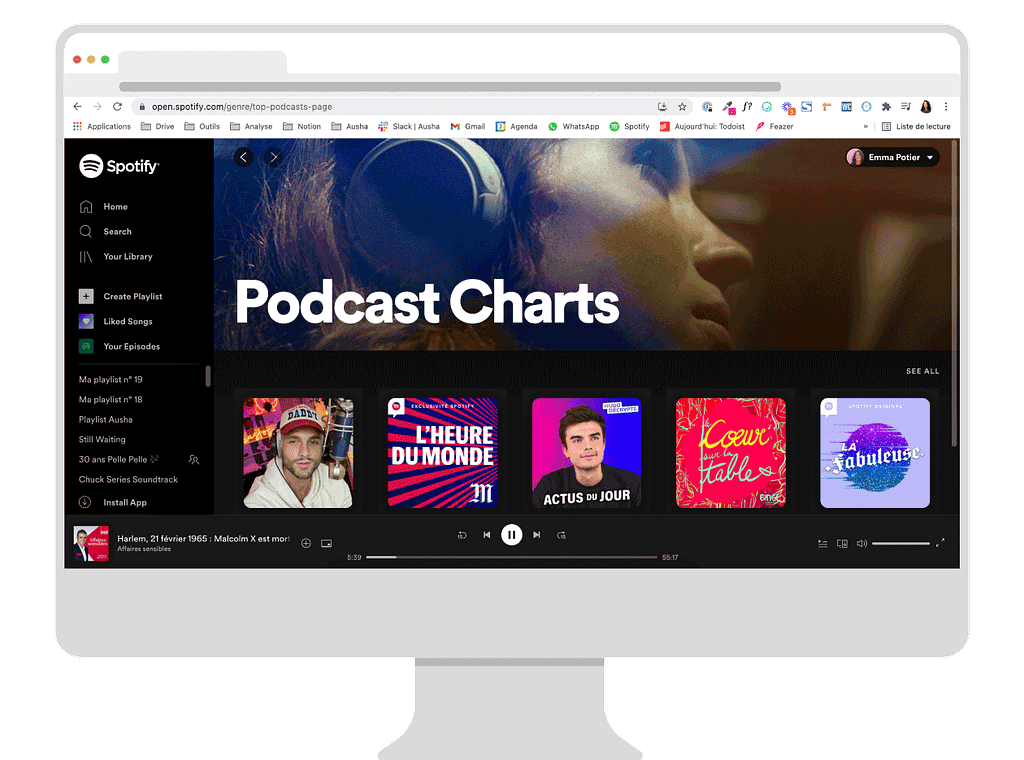 While you're thinking about the artwork of your podcast, think carefully about its final size so you don't have to cut some of your graphic elements. Not only will your cover be displayed in square format everywhere, but it will appear in a very small size. 🤏
To optimize your podcast artwork, we encourage our podcasters to upload their picture only if it respects these directories :
3000 x 3000 pixels
JPG or PNG file type
RGB colorspace
Resolution of 72 dpi
But be careful, there is one small exception to these cover directories. If you are lucky enough to be selected by the Apple Podcasts' editorial team and to be promoted on iTunes, you have to provide artworks in several formats.
You can check the Apple guide on this subject. Apple has prepared templates to simplify your work to adapt your podcast cover art. If you follow the guide carefully, you won't have any problem. 😁
Imagine the uses of your cover beyond your podcast
You don't know how far your podcast can get you. 🚀 The future success of your show could also bring you the opportunity to write emails and to sign them with a personalized signature ; to send newsletters ; to create a website, business cards or social media accounts ; to distribute goodies to your community, etc.
By designing the cover art of your podcast in a square format, you're sure you can reuse it pretty much everywhere. That's very convenient ! However, if you are worried that someone might misunderstand that your logo refers to audio content, you can add the word "podcast" after the name of your show. 🎙️
Our last advice is to choose a very simple logo so you can use it easily in any communication materials you need. There is nothing worse than podcast cover art that is too crowded, with a lot of graphic elements on it. 🤔
Imagine yourself as a listener, you wouldn't be attracted by a cover with too many colors on it, so many that you wouldn't even see the name of the show. Your cover art must be simple but catchy. 😎
Define the style of your artwork
Before reading the summary of a book, you are attracted by its cover, right? Well, for a podcast, it's exactly the same thing. The cover of a show or the cover of an episode is the first thing that listeners see in their streaming application. 😁
So take advantage of this opportunity to show the DNA of your podcast and, why not, to give a quick look at your show with only one picture of the topics you will cover in your podcast.
The first thing to do before event choose your style, is to ask yourself some questions about your podcast :
What are you going to talk about ?
What is the tone of your show ?
What is the type of your podcast ?
Who are your listeners ?
Once you have answered these questions, it will become easier to define the style of your cover and, more generally, of all the artworks that you have to provide to promote your podcast in your website, newsletter or your social media. 😁
Most podcasters use their podcast cover art on their social media to promote it. For example, on Instagram, the format of every picture is square, just as the artwork of a podcast. 😉
When you don't have the time to make more assets for your social media,  you can just use your cover and it will say everything about you and your show. So you have to choose very carefully the elements you want to display on your artwork. 🤓
Do you prefer photography or illustration?
The podcast is audio content. So, some podcasters use their artwork to show their faces. Others, on the other hand, decide to display an illustration, more abstract. There is no right answer, you choose what you prefer to do with your podcast cover art. 🤷‍♀️
If you choose an illustration for your cover, you have infinite possibilities. This can be very useful to create a whole universe around your show in which your audience can really be immersed. For example: you talk about movies? Why not choose a film reel on your cover? 🎬 Is your podcast an audio saga? Represent the main character of your story in your artwork. 🥸 
However, if you launch a show that talks about science, about the news or if you talk about true crimes or want to tell true stories, then photography is a good option. Because it will bring some realness to your podcast.
If you are making an audio fiction podcast, photos will help you to anchor your story in reality. Keep in mind that nothing attracts the human eye more than the faces of other humans. 👁️ 👁️
Create the brand identity of your podcast
When you know what you want to put on your podcast cover and how to decline it for your episodes, you must define which colors you want to use on all your communication mediums. 🌈
These colors must be chosen very carefully because they represent the theme of your podcast but also your universe. To make the right choice, you can consult this article about color theory. For example :
If your tone is quite friendly and fun, you may use warm and flashy colors. 💛
If the subjects you talk about are very serious, you may use colder colors like blue, green, grey. 💙
The true stories and the testimonials can be highlighted with pastel colors and soft colors. 🤍
Once your colors have been defined, keep them close by for reference at all times. 
To find the style of your show, the colors are really important, but the font you choose also plays a big role in your brand identity. 
In the podcast world, as you know, words are extremely important. In most cases, the words that will appear on your podcast cover are actually the title(s) of your show. Why not play with these words and letters by choosing a really identifiable graphic style? ✏️
Once you have identified the perfect font for your podcast, remember again that your cover will be displayed in a small format. It must be easily readable by everyone and on all media.
What tools to use to create your podcast cover art?
If you want to edit and to modify an image, Photoshop remains the unquestionable master whether you want to create your own cover, crop a photo, edit an existing photo, etc. There is also a free substitute called Gimp which is quite easy to understand.
If design is not your cup of tea and if you have the budget, you can create the podcast cover of your dreams by asking professional graphic designers to create it for you. Just tell them your concept and explain them in a few words what you want to display on your cover and they will do wonders! ✨
There is also the MacGyver solution. ⚒️ With Canva, you have plenty of pre-created designs to draw inspiration from. Google Drawing is also an online image editor that lets you import images from your Drive, which is pretty practical.
To sum up : to make an effective podcast cover and a cover for your episodes, here is what you must pay special attention to:
Your podcast cover must be square and respect a size of 3000*3000px ideally 🔲
It must really represent the universe of your podcast, even with its colors and fonts 🌈
You have the choice between displaying an illustration or a picture of a person. There is no rule for that, except that you have to respect the readability of the name of your podcast. It is very important that the design of your cover is not too crowded. 🧘‍♀️
The colors and fonts you choose for your cover should be consistent with a graphic charter that you will use in all your communication materials to consolidate the brand identity of your show. 🖼️
You have many free tools to create a beautiful cover like Canva, Google Drawing or Gimp.
You know now how to create a perfect cover art for your podcast ! If you need some inspiration, you can go on the Podcastopolis Instagram account. And to learn more about how to make a perfect description for your show and your episodes, you can read this article.
Awareness