Branded podcasts are booming! In this blog post, we are going to review some of the best out there. Then we will review wrap up by giving you a little more context about branded podcasts– what exactly they are, who creates them, etc.
Here's our list! Click on them to read more or simply scroll down to read about them all in detail:
Best 10 Branded Podcasts of 2023
Dior Talks
Slack's Work in Progress
REI's Wild Ideas Worth Living
Google's Search Off the Record
Chief's The New Rules of Business
Expedia's Out Travel the System
Farewelling: The Podcast
Around the Barrel with Jack Daniel's
The Thorne Podcast
The Stack Overflow Podcast
What Should I Do With My Money (Morgan Stanley)
Tell Me What Happened (OnStar)
Know It All (Netflix)
Duolingo
Be A Hero (Red Cross of Northern Ohio)
Dear Headspace
B&H Photography Podcast
Behind the Scenery (National Park Service)
The Roller Door (Santa Cruz Bicycles)
Ausha Tips Podcast
Enjoy the read! 🚀 If you or your company are considering doing a branded podcast, take a listen to these and see what you think.
Dior Talks 💄
This is one of several podcast series by Dior. It has the elegant style of Dior, while also showing the engaging, human side of the brand.
It's description:
"Step inside the contemporary Dior mind with 'Dior Talks', a series of podcasts aimed at bringing together both the people who directly shape the creative direction of the House and those whose artistic, cultural or intellectual impact influence its narrative… These podcasts provide a stimulating outlet for the voices of these influential and empowered figures, who talk openly and honestly about their lives, their motivations, the challenges they've overcome and their hopes for the future."
Slack's Work in Progress 🚧
An aptly named podcast, this branded podcast embodies Slack in that it is about work, but also about life… we have all been part of Slack chats like that. The series ended in 2017, but it is still worth listening to today.
It's description:
"Behind every working human, there's a story. Work in Progress is a show about the meaning and identity we find in work. In each episode, hear stories of personal ambition and debilitating insecurities, great successes and abject failures, the plans we make and the luck that…happens."
REI's Wild Ideas Worth Living 🏕️
REI, the outdoor recreation gear retailer, has had a few limited, immersive series that are great (almost like its own podcast network), but this is its permanent mainstay.
It's description:
"High-impact interviews for those who love adventure and the outdoors. Host and journalist Shelby Stanger interviews world-class explorers, athletes, authors, scientists, health experts and entrepreneurs about how they've taken their own wild ideas and made them a reality, so you can too. Some of the wildest ideas can lead to the most rewarding adventures."
Google's Search Off the Record 🕵
Google has a few different branded podcasts, some are product specific, some of them are more general. This one is based on their Search Console product and the humans behind it.
It's description:
"Search Off the Record takes you behind the scenes of Google Search and its inner workings! In each episode, the folks from the Search Relations team will give you background info on the decision-making behind launches, feature prioritization in Search Console, and the projects Google Search teams are working on. They will share fun stories from the many conferences they attend as well as from their day-to-day working life at Google. They will also dive into the currently trending conversations in the SEO community at large."
Chief's The New Rules of Business 👩‍💼
Chief is an exclusive network of women business leaders that you have to pay to get into. But, you can learn a lot about what they offer and what their brand is by listening to their podcast for free!
It's description:
"On the "New Rules of Business," Chief Co-Founders Carolyn Childers and Lindsay Kaplan join the brightest minds in business and academia to unravel complex trends and challenge preconceived notions of what leadership should look like. Learn how to lead when the old rules just don't apply."
Expedia's Out Travel the System ✈️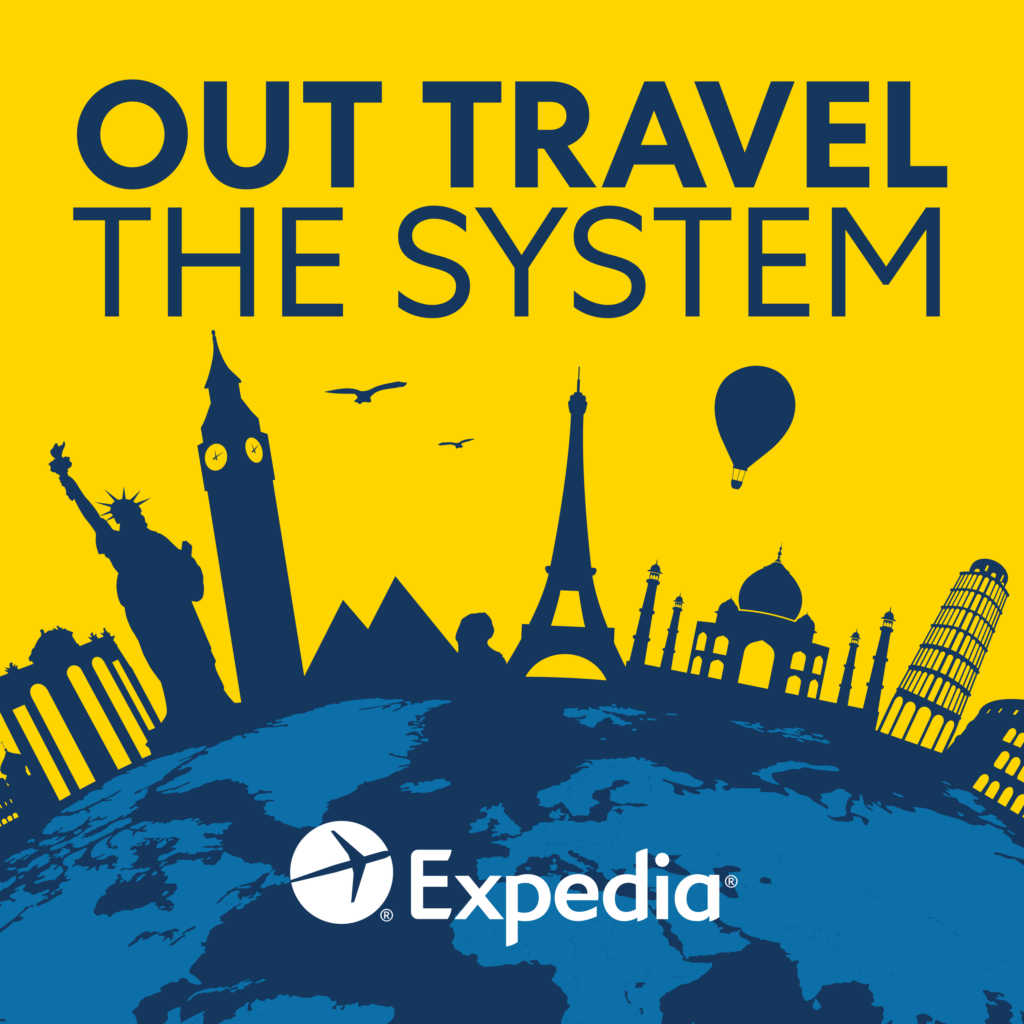 Expedia is a vacation, airline, hotel, and rental car booking platform. It is meant to make traveling easy and affordable. They strengthen this brand with their podcast.
It's description:
"Even when we're not going anywhere, we're planning our next adventure. As a global leader in travel, Expedia has created this entertaining podcast offering travel information and ideas so you can learn and get inspired. Before you embark on your next trip, join host Nisreene Atassi to swap tips with travel experts and industry insiders, as well as people just like you who have great travel stories to share."
Farewelling: The Podcast 🙏
Farewelling is a small company that provides end-of-life and funeral planning. Their branded podcast reflected their approach as well as their services. The series has come to an end, but you can still listen to their episodes.
It's description:
"Death, Dying and Occasional Cocktails. Farewelling founder Karen Bussen hosts celebs, experts, and regular folks on a groundbreaking interview show to get us all talking more openly about death…and life."
Around the Barrel with Jack Daniel's 🤠
Jack Daniel's, the whiskey, has its own podcast. It is now on its 5th season. Whether it is featuring the family of Nathan Green, the black man who actually created the drink, or Erik Brown, the man currently taking care of the tourist attraction/distillery, you get a taste of what the brand is all about.
It's description:
"Stories always get better in the retelling. And in the case of Mr. Jack Daniel, the distillery that bears his name, and the world-famous whiskey that emerges from the hollows of Lynchburg, Tennessee, there is no shortage of stories to be told. Lucas Hendrickson hosts Around the Barrel, the official podcast of Jack Daniel's, as we set out to tell those stories."
The Thorne Podcast 🏃
Thorne is a supplement and health testing company that collaborates with organizations like the Mayo Clinic and US National Teams. With its podcast, it positions itself as a trusted, scientific health expert.
It's description:
"With so much happening in the world of health and wellness, how can you separate fact from fiction? Listen to Thorne's medical experts as they bring you the latest insights, access to exclusive interviews, and much more as the Thorne Podcast navigates the complex world of health and wellness. Here you'll discover the newest research on diet, nutritional supplements, and lifestyle approaches to unlocking your best self."
The Stack Overflow Podcast 💻
Stack Overflow is one of the biggest and most trusted online communities for developers. Its podcast is a natural extension of the organization's services blended with its branding.
It's description:
"For more than a dozen years, the Stack Overflow Podcast has been exploring what it means to be a developer and how the art and practice of software programming is changing our world. From Rails to React, from Java to Node.js, we host important conversations and fascinating guests that will help you understand how technology is made and where it's headed. Hosted by Ben Popper, Cassidy Williams, and Ceora Ford, the Stack Overflow Podcast is your home for all things code."
What Should I Do With My Money (Morgan Stanley) 💵
Morgan Stanley is a very large financial services company that does everything from personal wealth management to investment banking. Their podcast repertoire reflects this– they have channel of five different podcasts.
Their "What Should I Do With My Money" show is for their Wealth Management work. The podcast creates a safe place where people can hear about other's financial vulnerabilities and hopes, making them more comfortable to reach out to a Morgan Stanley finacial advisor when the are ready.
It's description:
"Matching real people, asking real questions about their money, with experienced Financial Advisors. You'll hear answers to important questions like: Is now the right time to buy a house? What to do if your business fails? How should I be saving to cover the cost of college? How much do I really need to retire and am I on track? Join us as our guests share their stories around life's major moments. And hear the difference a conversation can make. Hosted by Morgan Stanley Wealth Management's Jamie Roô."
Tell Me What Happened (OnStar) 🚨
"Tell Me What Happened," the branded podcast by OnStar, taps into part of the true crime podcast popularity wave, but in a way that makes since for its brand. OnStar is a service that allows you to reach help in your car when you need it most. Its podcast tells of real life dangerous scenarios along with advice from emergency experts– tapping into the adrenaline rush, suspense, and awareness that podcast listeners have shown they love.
It's description:
"Things don't always go as planned: Sometimes a drive in the mountains, or a swim in the ocean, suddenly turns into a dangerous situation. Other times it might be a medical emergency, or a family lost in a foreign country. These are the true stories of people helping people during the most pivotal moments in their lives.
Each episode also includes a conversation with an expert to provide added advice around crisis situations. Featured guests from the first two seasons include a psychologist, a search-and-rescue expert offering practical tips for surviving a blizzard when you are caught in a remote area, an emergency management expert and many more. Tell Me What Happened is brought to you by OnStar."
Know It All (Netflix) 🤓
Netflix's podcast channel has 18 shows on it. Talk about an organization that believes in branded podcasts! And it makes sense- they are creating additional content while also driving people to use their video platform.
"Know It All" is the show for podcast listeners who want to learn about interesting and relevant sceince-y things. For example, one episode they dive into the brain chemistry behind love and how it is like addiction. Then they plug the latest Netflix rom-com, "Your Place or Mine."
It's description is short and to the point:
"Know It All is the Netflix podcast hosted by AsapSCIENCE Every other Wednesday, Mitch and Greg will look for the answers to all the questions that come up while watching Netflix shows."
Duolingo 🦉
Duolingo is an app that teaches people new languages. Chances are, you have downloaded it on your phone at some point, promising yourself you will finally learn Italian, or French, or Swahili.
Duolingo's podcasts get you excited about learning a language, using it in the real world to go on adventures and meet new people. You get so excited about learning the language that you just might sign up for Duolingo's paid version!
Here's the description for the Duolingo English to Spanish podcast:
"True stories for English speakers learning Spanish. From the makers of Duolingo, the most popular language-learning app, comes a new podcast that delivers fascinating real-life stories in easy-to-understand Spanish with English narration. These are not language lessons; they're life lessons through language. Hosted by Martina Castro, co-founder of NPR's Radio Ambulante."
Be A Hero (Red Cross of Northern Ohio) ⛑️
Think your organization is too small to launch a branded podcast? Its not! Check out what the Red Cross of Northern Ohio is doing. In its branded podcast, the local nonprofit organization, highlights the stories of recipients of the American Red Cross of Northeast Ohio Hero Awards and other heroes. The stories are so inspiring you may want to volunteer or donate yourself!
It's description:
"Highlighting volunteers who make a difference in their communities in many ways, with the hope of inspiring others to volunteer, and be a hero."
Dear Headspace 🧘
Headspace is an mental health platform that offers services to individuals, big corporations, and everything in between. They are best known for their meditation app. Headspace has 9 different branded podcast shows on its channel.
"Dear Headspace" has weekly episodes where meditation teachers answer questions submitted by listeners. This podcast creates a sense of community, helping retain app users. It also gives a taste of what Headspace can offer to potential users.
It's description:
"Have you ever wished you had a wise meditation teacher on speed dial? Someone you could call after a long day. Someone you can lean on for advice. And Someone to help you see things differently. Welcome to Dear Headspace, a Headspace original podcast where meditation teachers answer your questions. Episodes will be released every Tuesday starting November 1st. Listen on the Headspace App or wherever you get your podcasts."
B&H Photography Podcast 📸
B&H Photo & Video is a huge provider of audio and video equipment in the US. You have probably caught their name in a few of our blog posts about podcasting equipment. It is only fitting that they have their own branded podcast. The "B&H Photography Podcast" tells stories of creators, their tech, and their art.
It's description:
"Join us each week for a conversation with insightful and entertaining guests. From gear and technique to history, science and art, we discuss the topics most important to the contemporary photographer."
Behind the Scenery (National Park Service) 🌲
The US National Park Service has had a strong podcast game for a long time now. As the medium has developed, so have their podcasts. "Behind the Scenery" is a branded podcast that tells stories of science, humor, perseverance, curiosity, and every other human condition that has interacted with the Grand Canyon. Makes you want to go there… or at least support the parks!
It's description:
"Hidden forces shape our ideas, beliefs, and experiences of Grand Canyon. Join us, as we uncover the stories between the canyon's colorful walls. Probe the depths, and add your voice for what happens next at Grand Canyon!"
The Roller Door (Santa Cruz Bicycles) 🚲
Santa Cruz Bicycles is a high-end mountain bike manufacturer. To grow their market, build their brand, and connect with their community, the started the "Roller Door" podcast.
It's description:
"The Roller Door is a podcast from Santa Cruz Bicycles, where we talk to the people behind the bikes, the riders who ride them, and hear from our extended family of trail builders, visionaries, and champions for the sport of mountain biking."
Ausha Tips Podcast 🧑‍🚀
We will finish out our list with… us! 😁
We have a branded podcast. It is called "TIPS: Grow Your Podcast."
Making our own podcast keeps us on our toes and allows us to experience firsthand what it is like to launch and boost a podcast. 🏋️‍♀️ And yes, we monitor our own podcast statistics, just like we tell everyone to!
We make sure to incorporate our brand colors in our podcast (yes, we have video podcasts). We also make sure that our brand's voice is consistent across all our content, from this blog to our latest episode!
Our episodes are all under ten minutes long because we know podcasters are busy folks who just need concrete tips on how to grow their podcast audience through great marketing and content. 📈
Hopefully our branded podcast positions us as the experts we are, but even more importantly, it shows what our brand is all about– helping podcasters get their voice heard! 💜
Now that we have covered some of the best branded podcasts in 2023, we will dive into the details a little more to make sure you fully understand what a branded podcast is and who can make one.
What is a Branded Podcast?
A brand podcast is a podcast by a company for the purpose of boosting their brand. It is a type of content marketing. 🤓
Potential Benefits for Brands
Through audio (and sometimes video) content, a business can increase their brand awareness, their brand affinity, and their brand recall.
People who may otherwise not come across the brand, find it through a platform's search engine and recommendations where they listen to podcasts. 🗺️
Sometimes podcast listeners are already aware of the brand, but after they listen to episode stories, they like the brand more and are willing to increase their engagement with it. 🥰
Brand podcasting also keeps the brand top of mind for its target audience. Any listener who follows the podcast will be alerted when a new episode is published. 🎯
Who Makes Branded Podcasts?
In-House
Sometimes branded podcasts are made in-house. 🏠
Big companies often have a communications team on staff. These teams can create a branded podcast for the company. Sometimes these branded podcasts are internal-only series, meaning they are made specially for an audience of the corporation's employees.
Agencies
Some companies decide to outsource the work. ➡️
There is a whole niche industry of marketing agencies and/or media production companies that are good at creating successful, high-quality branded podcasts for corporations. These talented folks can take a company's idea that has lots of potential, and build it out to be a great, popular podcast product. 👷
Often the podcast agency will also help with brainstorming, especially if they handle the company's other marketing efforts.
Soloprenuers
Soloprenuers also often make branded podcasts themselves to boost their brand. 💪
Usually their chosen format is either solo-host interviews with guests or how-to episodes.
Like many things in the soloprenuer life, it can take these individuals a lot of time to create content when they first start, but once they get the hang of it, it can be a real success. 🥳
Launch your podcast with Ausha
All-in-one platform to easily launch and grow your podcast.
Start for Free