Want to edit your own podcast? Turns out all you need is a Mac and GarageBand!
Whether you want to record audio on your Mac for a podcast, or maybe just a personal voice recording, you'll find GarageBand useful.
You may have listened to various podcasts on the Internet before, but it's really not that hard to record, edit and create your own. In fact, it may be even easier than creating a fancy video on YouTube, well depending on the software you use to record the podcast.
Fortunately, the GarageBand app makes this process easy and is available for free to Mac users.
Are you ready to use your Mac to create and record a podcast? Keep reading and soon you'll master recording your podcasts with GarageBand.
How to record a podcast in GarageBand
Before you start, make sure you have the latest version of GarageBand installed from the Mac App Store.
You'll also need a microphone, either internal or external (external microphones are recommended for podcasts because they provide better sound quality).
Assuming GarageBand is downloaded and a microphone is connected to your Mac, simply follow the steps below to begin recording audio.
1. Open GarageBand on the Mac, via the Dock, Applications folder, Launchpad or Spotlight.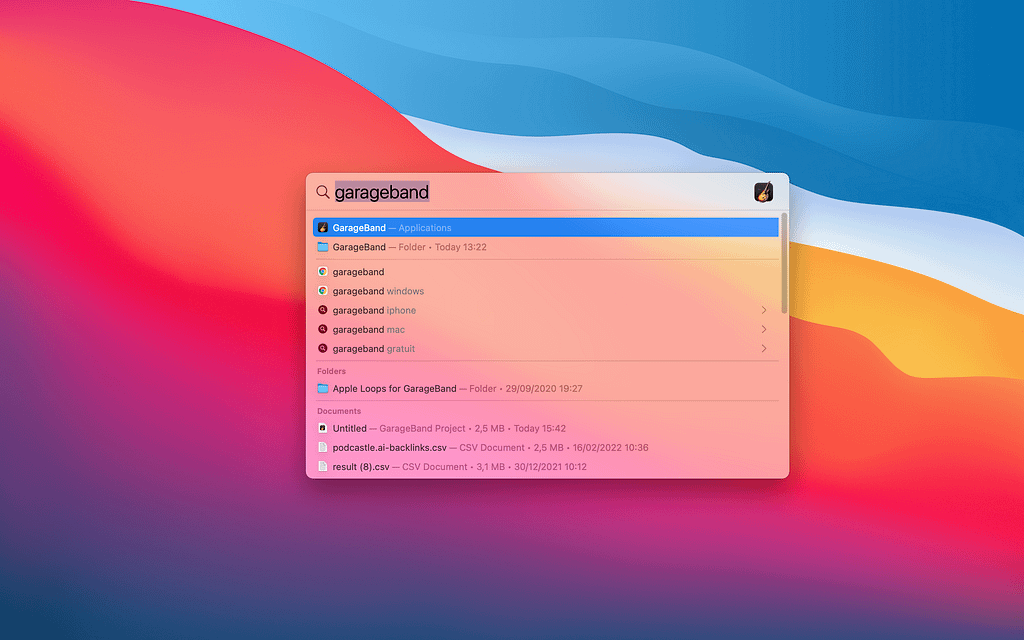 2. Once GarageBand is open, select "Project Templates" in the left pane and choose the "Voice" template as shown in the screenshot below.
3. The project window will now open. Click on the record button at the top of the window to start recording your voice/podcast.
4. When you're done recording the audio track you need, click the record button again to stop it. You can play this recorded track using the playback controls right next to it.
5. Optionally, record additional audio tracks using the same method described above
6. You can rearrange, edit, trim, and modify the voice recording to organize the podcast if you wish, otherwise just leave the audio track alone (most popular podcasts are a long, single audio recording)
7. Once you have previewed the recording, you can save the recorded file by clicking File->Save As in the menu bar.
8. This will open a pop-up window on your screen. Give a name to your tack and choose the file location. Click the button "Save" to confirm your changes.
There you have it, you've successfully recorded your podcast using GarageBand on your Mac!
You can either go with the flow and let a single audio track for the entire podcast (as some of the best podcasts do), or you can record as many audio tracks as you like in the same way and combine them in GarageBand to create your own podcast.
You can even import audio recorded from the Voice Memos app on iPhone, iPad or Mac if you want. And if you recorded a remote podcast guest by recording a phone call or via Zoom, you can easily import it into GarageBand to include or edit it as well.
How to edit a podcast in GarageBand
Here's what the GarageBand's Edit Tool looks like:
When it comes to cutting a portion of your recording, you'll use the playhead. It allows you to move through time.
Then, once the playhead is placed where you want it, you'll use the >Scroll Regions to Playhead tool.
Once the chosen regions are split, you can choose to cut them to make them disappear, copy them or paste them into other places in your recording.
These tools will allow you to integrate your intro music, your transition music as well as your closing music. And also to cut out parts of your recording if they're too long.
How to mix your podcast audio with GarageBand
Here's what the mixing tool looks like:
The mixing tool allows you to create automation on a track in order to decrease the volume at a specific point. This is useful in case you want to remove a noise or an "uh" without cutting your recording.
Also, when you have a second track such as music, it allows you to intensify it or decrease it depending on the situation.
How to add music in your podcast using GarageBand
To add your music (royalty free, of course) for your podcast intro and outro, you'll need to perform the same steps as for the main audio track.
Once added, you'll need to embed it at the time of recording where you want it and, as such, perform the automation as seen earlier.
For this recording, I advanced the main track by 15 seconds to embed my intro music. The automation at the end is used as a transition effect to introduce my voice. The automation on the main track allows me to hide an interference sound that I had previously recorded.
Since the automation is present throughout the track, you must be sure to remember to return the sound to a normal volume when you lower it.
Now all you need to do is continue editing your podcast and adjust the sound.
Exporting your audio from GarageBand
Once the sound editing is complete, it's time to export your audio to turn it into an MP3 file. To do this, go to > Share, then > Export Song to Disk. You'll then have several options available to you, including location, format and audio quality.
For exporting, I recommend an MP3 format and a quality of 128 kbit/s, as it allows for better listening on mobile devices.
Your podcast is now ready to be hosted and broadcasted!
Independents