Do you want to grow your podcast audience but don't know where to start because you are lost between the different cross-promotion strategies and the social media you should use ? We're here to help ! In 2022, it's not enough to simply publish a podcast episode and hope to attract new listeners… 
Here are our 6 tips to reach a new audience ! 💪
Use your podcast network to implement cross-promotion strategies
It doesn't matter if you just started your podcast or if you've been in the podcast game for a while now : you need to create and use your own podcast network. Even if your network is small, you can implement cross-promotion strategies : you can invite a guest on your podcast or ask another podcaster to invite you. 🤝
Cross-promotion is a visibility exchange between two podcasts that's generally free. It's a very common practice among podcasters, since it allows them to tap into an audience that already listens to podcasts in order to acquire new listeners. A simple interview with guests working in your industry might serve as valuable content while also reaching out to a whole new audience. You will be introduced to new listeners by one of their favorite podcasters and they might end-up listening to your podcast. It also works the other way around, the listeners of a podcaster you invite on your show will listen to your episode and you might gain new loyal listeners. If you want to learn more about cross-promotion strategies, check out our article : How to develop a cross-promotional strategy to grow your podcast's audience. 
Collaborations with other podcasters can be an excellent method to acquire new podcasting techniques to improve your podcast's overall quality. In any case, your network is priceless, so make the most of it! You are an email away from getting to know new people and meeting some fabulous podcasters, just send it ! 💌
Work on the SEO optimization of your podcast
It's critical to make your show easy to discover in search engines and on major listening platforms to increase your audience. In order to optimize your podcast for the different search engines and listening platforms, be sure to provide the metadata (fields) for your show and your episodes :
The title and the permalink should include at least one keyword to make it easier for the user and the engine to understand the content. 🗝
The cover should make you stand out from the crowd. 🌠
The episode description allows you to summarize the audio content of your episode : you have 4000 characters, be sure to use them. 📜
The tags allow you to add a taxonomy specific to each episode and will help your content to be better referenced. #cooltags
The proper naming of your audio file is an important consideration for your podcast's SEO. 📼
The transcription of the audio content of each episode into text will be key to help google and dividing your podcast into successive chapters enhances the transcription process. 📝
Our article Podcasts and SEO: How to make your podcast visible on search engines, wil give you all the information you need.
Use social media to reach new listeners for your podcast
We know you've already spent hours/days working on your podcast episode, but you need to spend at least as much time promoting it… The latest study carried out by CSA (Consumer Science and Analytics) and Havas Paris found out that 35% of listeners discovered a new podcast through social media and their favorite social networks in 2021. You already guessed it, you need to have a strong presence on Facebook, Instagram, LinkedIn and Twitter if you want to attract new listeners. 🕰
You will find a strategy for each platform in our article Podcasts and social networks : communication and marketing effectively. And since we think it's the most important social media to help you grow your podcast audience, we also prepared for you 10 tips for promoting your podcast on Instagram.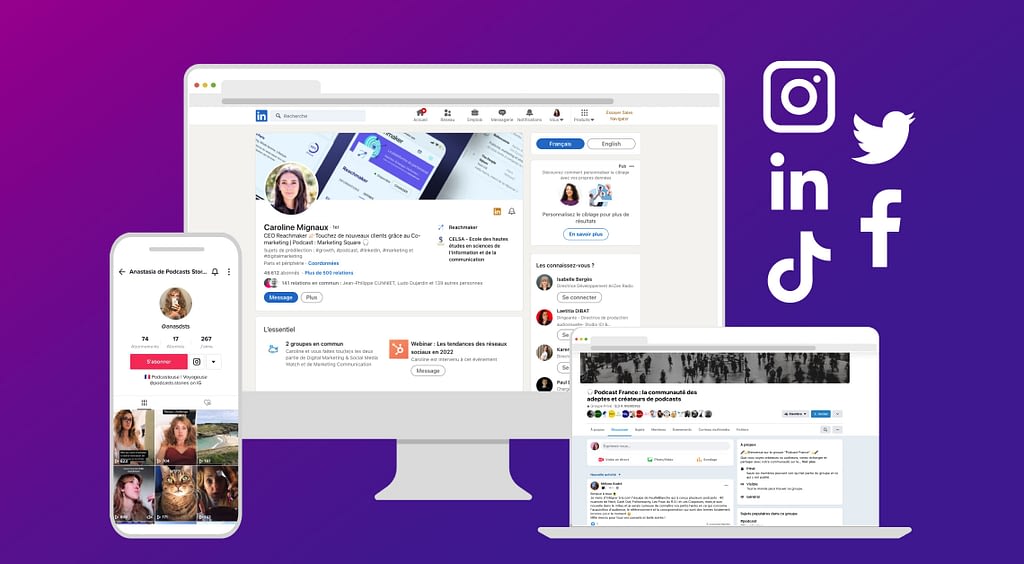 Reuse the content of your podcast to create snacking-contents
Your episodes are truly a gold mine for creating additional content to promote your podcast and get more podcast listeners. This includes blog posts, a short video for social media, infographics and posts on your social networks. It's often more effective to reuse existing content than to create new content from scratch.
Writing a blog post from scratch can be hard, you can trust me on that. The easiest way for you is to take the notes from the script of your episodes or the complete transcripts of your recordings to edit it and transform them into great blog posts. 
Repurposing your content will definitely save you some time, have a look at our article 6 ways to reuse the content of your podcast. 
Calls to action (CTA)
If you aren't already using CTAs at the end of your episodes, I have a question for you : WHAT ARE YOU WAITING FOR ? Your listeners just enjoyed a great podcast thanks to you and you should encourage them to do something that could help you ! They will be more than happy to help. For example, you could ask them to review your podcast on Apple Podcasts or on Spotify ? You could ask them to share your episode and to listen to other episodes. 🎧
Your website is also a great place to use CTAs : just add a "Listen here" button at the end of your articles and you will notice a great number of new listeners on your podcast.
Choose your host wisely 
Your podcast host will be your greater ally to get listed on the most important podcast directories and can do so much more. Okay, we might be a little bit biased here but I think you should definitely check out what we do here at Ausha ! You might be surprised by the efficiency of our unique marketing tools such as the clip generator, the social media manager, the newsletter… 💜
We can't wait to discover your podcast 👊
Ready to try Ausha? 🚀
You don't have to jungle multiple platforms to power your podcast anymore.
Access all our distribution, communication and analysis tools in one place.
14-day trial • No credit card • No commitment